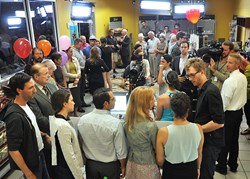 Our association with Ringling College of Art & Design is an important investment in the cultural vibrancy of our community, as well as an indicator of BMO's continued dedication to the arts.
Sarasota, FL (PRWEB) November 21, 2013
Ringling College of Art and Design today announced that BMO Private Bank has stepped up to finance post production and completion of 'The Lucky 6', the first feature-length film from the Ringling College Feature Film Project.
"BMO Private Bank is excited to provide financial support to raise awareness and help complete the first film of the Ringling College Feature Film Project. Our association with Ringling College of Art & Design is an important investment in the cultural vibrancy of our community, as well as an indicator of BMO's continued dedication to the arts," said Gary Heard, Managing Director for BMO Private Bank.
The Feature Film Project was launched in the summer of 2013 from the Office of the President at Ringling College to produce collaborative feature-length films that enhance the educational, artistic, and professional growth for Ringling College filmmakers and further both community and industry awareness. Ringling College launched the project in collaboration with the Florida State University/Asolo Conservatory for Actor Training, the first professional joint endeavor undertaken by the two organizations.
"This project has initiated an invaluable relationship - our students now have the opportunity to develop on-camera skills, and the Ringling students are given access to a very gifted and well trained pool of actors for their projects," said Greg Leaming, Director, FSU/Asolo Conservatory. "This is a great project for both of our organizations, and we're proud to take part in it. "
Students and alumni from both Ringling College and The Conservatory worked together to produce an independent feature length film that provides, above and beyond its entertainment value, real-world project experience for FSU/Asolo students with on-camera acting training, Ringling College students with feature film production experience and spotlights Sarasota as a talent-rich film production location.
"This ambitious project has relied upon members of the Sarasota community for financial support, those who could see the value in the integration of its arts organizations to create something new and visionary. BMO Private Bank reached out independently to support the successful completion of that vision," said Tony Stopperan, Executive Producer. "I am beyond grateful to BMO Private Bank for its eagerness to ensure that 'The Lucky 6' would have a finished product of quality that matched the energy and effort put in its creation."
'The Lucky 6' was shot over 28 days this summer on 9 different regional locations with 31 Ringling College students, 9 FSU/Asolo Actors and 10 Ringling College alumni, faculty and staff. Tony Stopperan is Program Director and Executive Producer and Ringling Digital Film program head Bradley Battersby wrote and directed 'The Lucky 6'. The film is about six employees of a tech startup (Ringbot Tech) winning a lottery jackpot of $120 million, and their reunion 5 years later under a slew of accusations from government agencies. Part screwball comedy and part heartfelt drama, The Lucky 6 is an avalanche of major life changes that lead the group to discover what is truly important in life.
About BMO Private Bank, a Part of BMO Financial Group:
BMO Private Bank offers a comprehensive range of wealth management services that include investment advisory, trust, banking and financial planning to meet the financial needs of high net worth clients. Through integrated teams of experienced financial professionals, BMO Private Bank helps its clients realize their financial and lifestyle goals with solutions that are custom tailored and delivered with the highest level of personalized service. BMO Private Bank is a brand name used in the United States by BMO Harris Bank N.A. Member FDIC. Not all products and services are available in every state and/or location. BMO and BMO Financial Group are trade names used by Bank of Montreal.
About Ringling College of Art and Design
Ringling College of Art and Design is a private, not-for-profit, fully accredited college offering the Bachelor's degree in 14 disciplines: Advertising Design, Business of Art & Design, Computer Animation, Digital Filmmaking, Fine Arts, Game Art & Design, Graphic Design, Illustration, Interior Design, Motion Design, Painting, Photography & Digital Imaging, Printmaking, and Sculpture. Located in Sarasota on Florida's Gulf Coast, the picturesque 48-acre campus now includes more than 110 buildings, and enrolls nearly 1,300 students. It is recognized as being among the best and most innovative visual arts colleges in the United States as well as a leader in the use of technology in the arts.