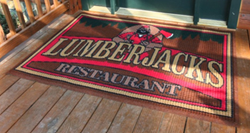 Not only are Waterhog Logo mats a place to wipe your shoes, but a creative solution that offers a variety of benefits extending past just simply keeping the floors clean.
(PRWEB) June 08, 2014
As crowds are expected in the upcoming weeks surrounding Father's Day, The Mad Matter, Inc. urges restaurants to take advantage of a valuable marketing opportunity. By purchasing a Waterhog Logo mat, restaurant owners will not only create a warm and inviting atmosphere, but take advantage of a creative marketing tactic.
"Waterhog Logo Mats create a strong first impression that will set you apart from the rest. Keep your restaurant clean while building your business image at the same time, "stated Gary Storz, President of The Mad Matter, Inc.
The Waterhog brand is one of the more popular and durable entrance floor mats in the mat industry, by customizing a logo into it, buyers are making a smart investment. With the purchase of a Waterhog Logo Mat, restaurants manage to tastefully display company persona, promote a safer entrance and walkway, as well as subliminally link the restaurant logo with the experience customers had at the establishment.
The high quality custom floor mat has a unique ridged construction effectively removing and holding dirt and moisture. Ideal for inside or outside, the logo mats can retain up to a one gallon of water and use a 100% UV resistant polypropylene fabric. All Waterhog Logo mats are green-friendly and designed to resist curling and cracking. These heavy duty mats are Certified Slip Resistant by the National Floor Safety Institute and can be customized without an additional charge.
This cost-effective purchase is engineered to withstand intense daily use and maintain their original physique for many years. It is a high quality mat for a low quantity price. For more information, please visit: http://www.madmatter.com.
About The Mad Matter
The Mad Matter carries commercial and residential floor matting solutions for every application including gyms, recreation centers, school athletic departments, hotels, spas and more. For more information on The Mad Matter, visit http://www.madmatter.com or call 800-685-1144 or email us at help(at)madmatter(dot)biz.