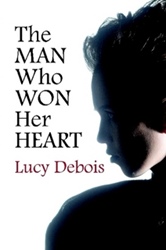 (PRWEB) April 07, 2016
IPSWICH, England – Rebecca's life had become complicated. The affair she started is now a secret that threatens to destroy her career and the man she loves. Her life twists and turns, and she meets criminals, best friends, lovers, husbands and a lifelong friend. Her search for love leads her to a most unexpected conclusion. "The Man who Won her Heart" (published by Lulu) is author Lucy Dubois' semi-autobiographical novel with drama, suspense and an underlying theme of faith.
"Although much of the story is fiction to create a wonderful sense of drama and suspense, the underlying theme of the story and its conclusion are true," Dubois says, saying Rebecca is a sensuous, stubborn woman who leads a secretive life and lives in a country English village.
An excerpt from "The Man who Won her Heart":
As the meeting seemed to drone on and on she began to daydream of Luke. Luke, I love you. Never in her forty-one years had there ever been a man in her life like this one. She smiled. It wasn't as if he was good looking, in fact just the opposite, but that smile just grabbed her. The first time she saw it, he had placed himself right in the front seat. She was used to being looked at and listened to and she loved it, this feeling of importance and of being in charge. It left her feeling sensual and sexual. She loved the power it gave her, and continually used it to her advantage. As she was musing over this feeling her mind went back again to that smile.
"The Man who Won her Heart"
By Lucy Debois
Softcover | 6 x 9in | 210 pages | ISBN 9781483446424
E-Book | 210 pages | ISBN 9781483446417
Available at Amazon and Barnes & Noble
About the Author
Lucy Dubois lives in a rural village in England and writes stories in her spare time.
Lulu empowers people of all ages to explore and express their interests, passions and expertise through books, photography and art. Since introducing self-publishing in 2002, Lulu has empowered creators in more than 225 countries and territories to produce nearly two million publications. Lulu Jr. allows children to become published authors, encouraging creativity, strengthening literacy and building self-esteem. Picture.com offers professional photography of collegiate and professional sports, memorable and historic events, fine art and home décor. For more information, please visit lulu.com.