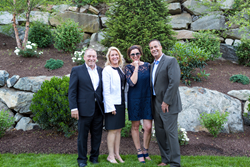 We love our town, Winchester, and we see this home as a great addition to what surely is one of Winchester's newest, most prestigious neighborhoods.
Winchester, MA (PRWEB) June 30, 2017
The Marrocco Group recently hosted an informative gala event to introduce attendees to the splendor of Aquinas Path, a luxury development in Winchester, MA, and highlight its progress. "We are excited to include the community in this development's progress," said Monte Marrocco, founder of The Marrocco Group at RE/MAX Leading Edge, which exclusively markets Aquinas Path.
Marrocco, who has been voted one of RE/MAX New England's top 10 agents multiple years in a row, invited neighbors, friends, clients, local businesses and Realtors to the event in hopes of getting the community excited about the newest house that has been made available to the market, 6 Aquinas Path, which is where the gala was hosted. "We love our town, Winchester, and we see this home as a great addition to what surely is one of Winchester's newest, most prestigious neighborhoods," added Marrocco.
Approximately 200 people attended to explore the home and enjoy the catered food as well as a cocktails served by the licensed bartender and entertainment by the DJ. Attendees were also presented with detailed marketing material related to Aquinas Path. "This party debuted Aquinas Path's newest home that is on the market to be sold," added Marrocco. "The home is currently surrounded by a few remaining lots that will soon be built upon in Aquinas Path -- half of the homes in Aquinas Path have already been completed and sold."
Aquinas Path, one of Winchester's most elite neighborhoods, is being built by Speedwagon Partners, a premier builder of new homes for sale in Eastern Massachusetts. It includes thirteen lots with the streets named after Greek philosophers, such as Plato, Aristotle, Socrates and more. For more information on Aquinas Path, the town of Winchester, Speedwagon Partners and The Marrocco Group, visit AquinasPath.com
The Aquinas Path event was also a benefit for breast cancer and to raise awareness. Additionally, The Marrocco Group contributes to Children's Miracle Network.
About Monte Marrocco, The Marrocco Group, RE/MAX Leading Edge
Monte Marrocco has been a leader in the real estate industry for over 30 years, specializing in residential sales in Winchester and the Greater Boston area. He consistently ranks among the Top 100 Agents in the United States, and maintains great relationships with many builders throughout the area. For more information, please call (781) 799-0666, or visit http://www.montesells.com.
About the NALA™
The NALA offers small and medium-sized businesses effective ways to reach customers through new media. As a single-agency source, the NALA helps businesses flourish in their local community. The NALA's mission is to promote a business' relevant and newsworthy events and achievements, both online and through traditional media. The information and content in this article are not in conjunction with the views of the NALA. For media inquiries, please call 805.650.6121, ext. 361.