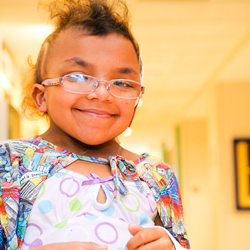 "Nurses ask. Donors support. Patients win."
Chapel Hill, North Carolina (PRWEB) April 15, 2014
For hospitalized children, the wait is over. Healing Campaigns, a new crowd-funding website for children's health, is growing rapidly to meet the needs of pediatric patients nationwide. This project-based, crowd-funding model puts healing power into the hands of nurses (those who truly understand what is needed), enabling them to create and promote their own hospital projects online, which people all over the nation are funding. In the social media age, health and happiness for children around the country is now a click away.
Fast and streamlined, Healing Campaigns is changing the game for children's healthcare and has the results to back it up: Campaigns are being funded rapidly, the first taking only twenty-four hours to complete, and the benefits are huge.
Healing Campaigns success stories range from movie nights to musical instruments, highlighting everything nurses need to help patients thrive. In just a few months since launch, Healing Campaigns has revolutionized the way kids heal, and the way nurses get what patients want and need by stripping away the inessential:
"Nurses don't have time to fill out fifty-page grant proposals. But they do have incredible ideas to help their patients. This site helps to rapidly fund those ideas," noted Joey McMahon, Founder & CEO of The Monday Life, the non-profit behind Healing Campaigns.
Lee Arphai, a Health Unit Coordinator at UNC Healthcare Child Psychiatry Unit, who recently used Healing Campaigns to fund board games, electronic games, and art supplies for patients, is swift to note the simplicity of the site, saying it "all it took was a little bit of time and a collaborative effort from my coworkers, and the result was overwhelming."
"Nurses ask. Donors support. Patients win. It's simple, and that's how we designed the site," described Kaushik Sahoo, a junior at Duke University who leads Technology for The Monday Life.
And The Monday Life has a reputation for making the simple, significant: The organization is built on encouraging people to give one dollar, every Monday. Healing Campaigns is the next step in showing that a little bit of giving can create vast improvements for children's health.
To learn more, create a campaign, or donate, please visit http://www.healingcampaigns.org.
--
About The Monday Life:
The Monday Life is a 501(c)3 non-profit organization that helps hospitalized children feel better and heal faster. The organization does this by improving patient environments inside children's hospitals across the country. These improvements are based on research showing that the surrounding environment can have a tremendous impact on healing.
The mission is made possible by donors giving just $1, every Monday – a simple commitment to do good and a way to actually love Mondays.