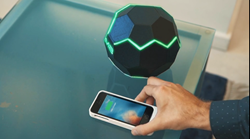 We're excited to finally showcase The MotherBox and help build the foundation for wire-free charging solutions in the years to come.
NEW YORK (PRWEB) February 16, 2017
Yank Technologies, headquartered at the Columbia University Startup Lab, has developed a novel, patent-pending wireless charger that offers consumers a truly handsfree charging option. Unlike other wireless charging solutions on the market, The MotherBox does not need to be tethered to the actual device being used. In other words, the team has developed the first 3-D inductive charging pad. Now, consumers can charge their iOS or Android devices simultaneously and never worry about their charging cables again. The Yank Technologies team is now turning to the crowdfunding community to showcase their new product, engage backers, and help change the way consumers think of wireless charging.
"Technology today is like a sexy Ferrari that's really low on gas. It's beautiful and amazing, but limited in reaching its true potential. It doesn't have to be this way," said Josh Yank, CEO of Yank Technologies. "We're excited to finally showcase The MotherBox and help build the foundation for wire-free charging solutions in the years to come."
To charge their smartphones, consumers simply place The MotherBox receiver on their device. From there, consumers can connect to The MotherBox charger using the mobile app. That's it. Consumers can enjoy power on-demand and the ability to charge multiple devices simultaneously. Using The MotherBox grants consumers free movement thanks to its no point-to-point contact requirement and its ability to function without any hindrance or obstruction.
The MotherBox comes in two sizes for adaptability. Measuring at approximately 6" x 6" x 6", the larger MotherBox is ideal for charging devices at home or at work. Its smaller counterpart, dubbed "The MotherBox Mini", measures at approximately 3.5" x 3.5" x 3.5" and is perfect for toting around or bringing on trips. Consumers can also opt-in to receive push notifications when the product's battery is running low, and set preferences on when they would like to charge.
As a basic rule of thumb, the closer the device is to the charging pad, the faster it will charge. The MotherBox must be connected to an outlet, while The MotherBox Mini has a rechargeable battery and can be used on the go. A USB cable and a receiver will be included with each product sold. Consumers may choose the type of receiver for their device upon checking out. Current inductive charging pads have a max charging distance of about ¼" from the pad. The MotherBox boasts a charging range up to about 20", while the MotherBox Mini has a range of about 10".
Josh Yank, along with Jin Li, the Chief Engineer, and their team of engineers combined their talents to work towards creating a wire-free world where the battery state of electronics are not a concern, but an afterthought. The team has successfully completed The MotherBox prototype with proprietary software, hardware, firmware and algorithms. Now, the team is seeking support on Indiegogo for their wireless charger.
Yank Technologies launched The MotherBox on Indiegogo today with a $25K funding goal. Those who are interested in purchasing The MotherBox can take advantage of early bird discounted prices starting at only $79. For more information, visit the campaign at bit.ly/MotherBoxIGG.
About Yank Technologies, Inc.
Founded in 2013, Josh Yank began Yank Technologies while pursuing his MBA at Binghamton University. About a year and a half later, Josh met Jin Li, Harshal Agrawal and Dan. Together, the group connected with a passion for creating a wire-free world. Since then, the team has partnered with the international law firm, Perkins Coie, to achieve patent-pending status on their technology. Furthermore, the team has completed a prototype for their newest product, The MotherBox, and is now headquartered at the Columbia University Startup Lab. For more information, visit http://www.yanktechnologies.com.