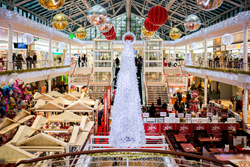 Ventura, CA (PRWEB) December 13, 2016
Small business owners during the holiday season are not only expected to remember friends and loved ones but their customers as well. Fortunately, there are numerous holiday-themed marketing ideas that go well beyond simply sending out holiday cards that can show customers how much they are appreciated while increasing business, including the following three:
No. 1: Host a holiday sidewalk sale. If one has a brick and mortar location, team up with other businesses on the block for a holiday sidewalk sale. This enables a business to not only attract new customers but to cross-promote their business, via business cards, flyers, etc., with the others that are participating, thus attracting their existing and potential clientele. Additionally, make sure to have something to keep the kids occupied, such as an ornament contest where the winner gets a prize, and don't forget to invite Santa.
No. 2: Support a charity. The holidays are a time of giving and the perfect opportunity to support a charitable organization, such as Soles4Souls, a nonprofit global social enterprise committed to fighting poverty through the collection and distribution of shoes and clothing, Toys for Tots, whose mission is to collect new, unwrapped toys each holiday season and distribute them as Christmas gifts to children in need, or Operation Warm, whose mission is to provide brand new winter coats to children in need. Small businesses can host a donation drive at their office for a charity, which shows they are a business that cares about the well-being of others, keeping in mind that more and more people, particularly Millennials, the largest generation America has ever seen, prefer to do business with companies that care. A business can also offer a discount to people that donate or volunteer their time to a charity, which is an extra incentive for them to do business with it.
No. 3: Create holiday-themed promotions and giveaways. Most people's wallets are severely dented during the holidays, so they are looking for deals wherever they can find them. To help ease the burden of holiday spending, implement a promotion and/or giveaway, which is yet another way to entice holiday shoppers. This can include anything from a small but thoughtful gesture such as giving away cookies, candy canes or small gifts with each purchase that can be used as stocking stuffers to more large-scale promotions such as offering free shipping with every purchase made during the holiday season or a "12 Days of Christmas Sales Event," where a business can, for example, discount a different item or service every day, particularly new products or ones that haven't been selling well.
About the NALA™
The NALA offers small and medium-sized businesses effective ways to reach customers through new media. As a single-agency source, the NALA helps businesses flourish in their local community. The NALA's mission is to promote a business' relevant and newsworthy events and achievements, both online and through traditional media. For media inquiries, please call 805.650.6121, ext. 361.