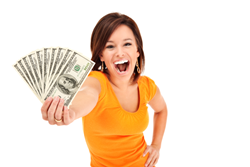 Sales takes an extremely strong work ethic, as well as strong communication and improvisation skills, in which good actors excel.
Ventura, CA (PRWEB) October 18, 2014
The life of an actor is often misunderstood, with very little time working as an actor to pay the bills and countless hours of classes, auditions and rehearsals to stay in the game and hone one's craft. Most actors need flexibility during the day and most can't pay the bills on acting jobs alone. Many actors end up waiting tables, bartending or catering. What do the actors do who don't want to work in the food industry?
Scott Jay, an actor and sales manager for the NALA, thinks that more actors and actresses should consider working in sales as independent contractors. "Sales takes an extremely strong work ethic, as well as strong communication and improvisation skills, in which good actors excel. Not only that, actors are experts in the area of rejection, and this I know from personal experience. If you book 1 out 100 auditions, they say you are considered successful, so 99% of the time, you are being rejected. Actors learn to shake rejection off and move on to the next audition and a sales call isn't any different. I actually hear the word, yes, more in sales, which helps my confidence in auditions."
The NALA opened in 2010, helping local businesses join the online marketing world. It's the perfect complement to the NALA's sister company, StarKart which offers advertising offline, through grocery cart campaigns. Currently, both companies are hiring and offer a variety of services to help local businesses become and remain prominent in their communities. During a time of high unemployment throughout the United States, StarKart is proud to have been consistently hiring over the last ten years.
"I worked as a bartender and waiter for a long time before I discovered sales. Not only are the sales jobs more flexible but they have taught me valuable lessons in running my own business, and they pay better. Actors and actresses are essentially CEOs of their own brand and if you are an independent salesperson, you are practicing the same management skills for your daily sales job as you do for your acting business," said Scott Jay.
For information on the NALA's services or employment opportunities, please visit http://www.starkartthenala.com/careers or call 805-650-6121.
About the NALA™
The NALA is a full-service marketing agency providing custom personalized service for small and medium businesses throughout the United States. The NALA consults with each individual business and develops a specific strategy based on each business' unique advertising and marketing needs. Clients' campaigns focus on providing good web content which include services such as news releases, online advertising, social media, blogs, website development, and charity co-branding, among others.
PR Contact:
805.650.6121 x361
news(at)starkartthenala(dot)com