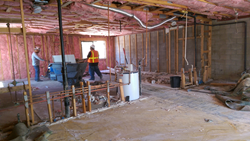 Scottsdale, Arizona (PRWEB) July 29, 2015
The New Foundation AZ recently started a massive renovation project on their residential dorms. The project, which will by the end will cost the 501(c) organization nearly $1 million, will both update the facilities' design and fixtures and allow for compliance of Arizona's recent anti-ligature requirements.
"We took it down to the studs," said Geraldine Leary, the New Foundation AZ chief executive officer. "The new design will allow us to create safety, supervision and a supportive environment."
Originally built in the 1970s, the New Foundation AZ's residential dorms will now feature a central staff-member desk with a wide view of the central living area, as well as fixtures that prevent residents from causing harm to themselves. The dorms will also have two sleeping rooms with four bunks each, dressing rooms, shower area, restroom area and laundry room.
Because The New Foundation AZ is a non-profit organization, they had to take out a loan for the construction project, which is being completed by Balfour Beatty. To that end, Leary says any donations toward the project or volunteer work by contractors are perfectly welcome. For example, the new dorms will need washers and dryers, and part of the facility require touch-ups in painting and paving.
The New Foundation AZ is a community-based non-profit organization providing behavioral health and education services for more than 300 children annually throughout Arizona. Since its establishment in 1970, the New Foundation AZ has helped more than 10,000 11- to 17-year-old youths who struggle with mental health or substance abuse challenges find safety, stability and NEW FOUNDATIONS for a successful future. The leadership, staff, volunteers and board members provide opportunities for young people to move past their challenges and find the support and personal strength to make life changes needed through both residential programs and out-patient programs. The care is based in adolescent developmental research and addresses the unique needs of each individual child and family. Youth in the New Foundation AZ's programs are provided counseling, therapy and 24/7 nursing. The New Foundation AZ also provides education services for the children and youth enrolled in residential care through the accredited Marion Burton School. Education services here focus on helping youth meet Arizona's Common Core Standards in the primary subjects. The New Foundation AZ, a 501 (c) organization, is always in need of donations and community partners. People interested in donating may visit http://www.thenewfoundation.org/support/donate. To become a community partner, send an email to development(at)thenewfoundation(dot)org.
###
(480) 945-3302
info(at)thenewfoundation(dot)org
Press release distributed by JW Maxx Solutions, a leader in content management solutions and part of a family of companies that includes Enterate Ahora.