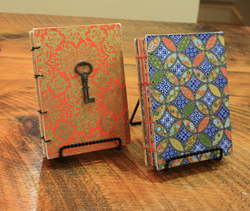 The Pocket Journal makes an amazing groomsmen gift, prayer journal or small personal notebook!
Brookline, New Hampshire (PRWEB) April 05, 2016
The Nib and Quill (http://www.thenibandquill.etsy.com), in association with The Artisan Group®, will participate in an exclusive celebrity gift lounge event hosted by GBK Productions, leading up to the MTV Movie Awards telecast. The Gift Lounge will take place on April 8-9, 2016 at an exclusive location in Los Angeles, California.
Founder/maker Kristi Baker's heirloom quality handcrafted Pocket Journals will be included in The Artisan Group's celebrity swag bags. The journals measure 2.5" x 3" and are bound with black waxed linen thread. Offering a total of 13 chapters and a hand-braided, waxed linen wrap closure, the journals make creative expression easy with multi-media friendly, 50 lb. acid-free, hand torn paper.
"I'm very excited about gifting my Pocket Journals at GBK's gift lounge. I think their rustic feel and authenticity will appeal to the MTV Movie Awards crowd," noted Kristi. "They are also incredibly versatile—I designed them to work as either a leather pocket notebook or a Wedding Vow Book, the perfect size to fit in his pocket to hold his handwritten vows, keeping them safe and close by for his special day. They also makes an amazing groomsmen gift, prayer journal or small personal notebook."
At the Artisan Group exhibit, The Nib and Quill will have on display two handcrafted 5" x 7" Coptic bound journals, one in Muted Tangerine with gold filigree and a Victorian skeleton key and the other in a "Flower of Life" inspired geometric pattern in primary blue and white.
Says Kristi, "The Muted Tangerine Journal was inspired by an interest in fusing the past with the brightness of youth, and how these two forces can open new expressions of art, love and possibilities. The Flower of Life journal explores the subtext of music—I believe that sacred geometry and music share the concepts and principles that allow us to experience and express elements of the mystic."
Kristi's passion is creating journals (vessels) to help capture memories, thoughts and pieces of creation. She handcrafts each piece with care and an attention to detail, with an aspiration to make a piece that will last a life-time and become an heirloom. Materials are hand-selected by Kristi herself, with a focus on using materials and techniques that connect with the past. She remarks, "My journals appeal to old souls that have a love of the hand-written word, have an urge to add to artistic creation and share an appreciation for handcrafted and sustainable works."
The Nib and Quill's Piano Journal is a favorite of Pitch Perfect's Kelley Jakle, who uses it as her personal songwriting book. Harvey Guillen (The Internship) is also a fan, and owns an original Feather Artwork Journal.
The Nib and Quill has participated in GBK's Luxury Celebrity Gift Lounges for the 2012 Academy Awards, the 2013 Golden Globes, the 2014 and 2015 MTV Movie Awards and the 2014 Primetime Emmys. The company was featured in the Vicksburg Evening Post (Vicksburg, MS) and the Winchester Star (Winchester, VA) following its participation in 2012 Oscars gift lounge. It was also profiled for The Artisan Group's TAGazine in honor of the 2015 MTV Movie Awards.
To learn more about The Nib and Quill, contact Kristi Baker by email using the Contact button at the top right of this press release. Become a fan on Facebook (TheNibandQuillbyKristiBaker), Pinterest (thenibandquill) and Instagram (Thenibandquill) and follow the company on Twitter (@Thenibandquill).
For more information about The Artisan Group, visit theartisangroup.org.
*Neither The Nib and Quill nor The Artisan Group are officially affiliated with MTV or the MTV Movie Awards.
ABOUT THE NIB AND QUILL
The Nib and Quill (http:/http://www.thenibandquill.etsy.com) is the home of Kristi Baker's handcrafted, rustic guest books, journals, and special event books, just to name a few, designed to inspire others to document their history. Kristi wants people to be able to share and capture their precious memories, birth announcements, artwork, or their everyday childhood memories. She painstakingly sews her books with care to ensure they will last a lifetime, creating heirloom quality as she sew. Each journal page is hand torn to create a special vintage feel, in which she is known for. Authentic skeleton keys added to remind us all of the times gone by.
ABOUT THE ARTISAN GROUP
The Artisan Group® (http://www.theartisangroup.org) is a premier entertainment marketing group dedicated to representing small business artisans at the best celebrity gift lounges and press events. The organization provides a collective sampling of handcrafted products to celebrities and members of the press at top luxury gift lounges such as those leading up to The Academy Awards, The Golden Globes, The MTV Movie Awards and The Primetime Emmys.
The Artisan Group also coordinates product placement of its member's handcrafted products on such hit television shows as The Voice, The Vampire Diaries, Days of Our Lives, The Young & The Restless, Modern Family, Jane The Virgin and Law & Order: SVU, among others. Membership in The Artisan Group is juried and by invitation only.