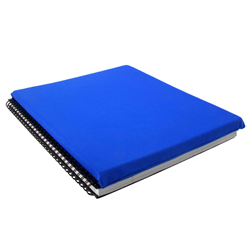 "Life is stressful for high school and college students, there is no reason they can't have a few minutes to rest their eyes throughout the day – the Note Pillow quickly and easily allows them to do just that."
Phoenix, AZ
(PRWEB) October 06, 2014 -- Brandon Dean, founder of the Note Pillow, has launched a crowdfunding campaign on Kickstarter today to raise funds to manufacture the product and bring it to the market. The Note Pillow provides students with a comfortable place to rest their heads during free periods and study halls.It is made with a ½ inch of dense, high-quality foam and a stretchable fabric cover, making it easy to slide on to any standard sized notebook.
Dean, now 26, originally had the idea for the Note Pillow when he was a high school, and just last year while living in New York, produced and released many prototypes, gaining quite a following of college students and fans of the product on Twitter. Dean looks to eventually expand on the popularity of The Note Pillow with high school and college students and release other similar devices for tablets, laptops, and binders as well as more color and pattern options.
"When I was in school, I would always nap during study halls and was never able to get comfortable," Dean says. "I developed the first Note Pillow for myself, then realized I could turn this into a real product after I saw how many of my friends immediately wanted one! Life is stressful for high school and college students, there is no reason they can't have a few minutes to rest their eyes throughout the day – the Note Pillow quickly and easily allows them to do just that."
The Note Pillow's Kickstarter campaign officially launched today at: http://bit.ly/TNPKS1 and will run for 30 days. The funding goal is set at $15,000 and, if reached, will allow Dean to bring the product to the market. Backers can get their very own red or blue Note Pillow for the limited time price of $15.00.
ABOUT THE NOTE PILLOW
The Note Pillow was created by Brandon Dean and allows students to easily relax during down time in high school and college. The Note Pillow is currently manufactured at M&R Sewing, a textile factory in Phoenix, Arizona. The Note Pillow is patent pending. For more information, visit http://www.thenotepillow.com/.