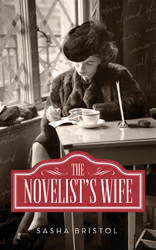 In the tradition of "The Paris Wife" and "Loving Frank," "The Novelist's Wife" reimagines a great modern love story: D.H. and Frieda Lawrence behind closed doors.
New York, New York (PRWEB) February 11, 2015
The Modernist Press announced its first release with the much-anticipated launch of "The Novelist's Wife" by Sasha Bristol (The Modernist Press: $8.99; ISBN 978-0-986102-10-3). In the tradition of The Paris Wife and Loving Frank, "The Novelist's Wife" reimagines a great modern love story: D.H. and Frieda Lawrence behind closed doors.
About the Book - "The Novelist's Wife"
Frieda Weekley felt trapped in a loveless marriage—until she met D.H. Lawrence. After a passionate courtship, they eloped and she became his muse and collaborator but experienced heartbreak when the law allowed her first husband to keep their three young children. As Frieda traveled the world, she met famous artists, including Virginia Woolf, Katherine Mansfield, Alfred Stieglitz, and Georgia O'Keeffe. Profoundly in love, she shouldered Lawrence's heated friendships with John Middleton Murray and others who minimized and even derided her influence on his work.
As the novelist's wife, Frieda attracted intense speculation when her husband became known as "the prophet of sex." Widely thought to be the model for many of her husband's characters, including the famous Lady Chatterley, Frieda's tale reveals secret betrayal at the core of her husband's most notorious book.
About the Author – Sasha Bristol
Sasha Bristol writes smart, readable, fun literary romances and historical fiction.
In writing "The Novelist's Wife," Sasha visited many of the places Frieda lived both before and after she met D.H. Lawrence: Metz, Berlin, Munich, numerous parts of Italy, London, Cornwall, New Mexico, and southern France. One memorable day, she persuaded a taxi driver in Nottingham to help her find each house occupied by Frieda and Ernest Weekley. She also visited D.H. Lawrence's tomb several times to read the messages people continue to leave for him in the chapel Frieda had built. As Frieda hoped, people really do come to visit D.H. Lawrence to tell him about their lives.
Sasha's goal in "The Novelist's Wife" has been to give texture to Frieda's story, which has been labeled, far too simply, as sloppily promiscuous and contrasted with Lawrence's brand of monogamy—a contrast that seems to her quite dubious. Frieda had what has been called "a genius for life"—and more than a few theories about how women should behave as wives, mothers, and lovers.
Like Frieda Lawrence, Sasha likes pueblo dances, art, and being in nature. A very contemporary woman, she also spends a lot of time with plays, movies, restaurants, and music. She has two daughters and lives mostly in New York, with her husband.
About The Modernist Press
The Modernist Press encourages creativity in fiction, non-fiction, and genres in between. Featuring e-books, it allows authors personal choice in how books look, feel, and find their readers. In 1917, when Virginia and Leonard Woolf established The Hogarth Press, they didn't know where the Press would go. The Woolfs published just one book in 1917 and two in 1918. Accompanied by Vanessa Bell's lovely woodcuts, Kew Gardens was one of just five in 1919. By 1925, The Hogarth Press facilitated literary excellence far more widely. The Modernist Press begins with a similar sense of adventure, experimentation, and openness to the future. It will begin with smart but juicy fiction and welcome other genres as they come.
Online: http://www.sashabristolbooks.com/
Amazon Kindle: http://amzn.com/B00TE8IIAI
GoodReads: http://www.goodreads.com/book/show/24845172-the-novelist-s-wife
Facebook: https://www.facebook.com/pages/Sasha-Bristol-Books/396356410488928
Review Copies: May be obtained by contacting Brand Spoken