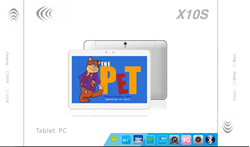 "We are proud to say that our hard work and dedication is proving that we are legitimate visionaries fighting for the future of our youth
New York, NY (PRWEB) October 08, 2015
United Vision Marketing Firm (UVMF) announces today that the firm has developed a new website for the Pearson Education Tablet (The PET). The site is for PET Fans around the world. It allows PET Fans to purchase products, leave comments and interact with Steve B. The PET Mascot.
The PET is designed to bring down the cost of education, help keep students engaged and inspired to learn. In 2012 UVMF announced that they would develop the tablet and even made a move to acquire Rim Blackberry to get the device developed but was taken lightly as the social enterprise had more big ideas than they had money.
Today UVMF reports that they have managed to emerge from the ashes and they have developed their own device. The very resourceful marketing firm says they did it without the help from any nepotism from Pearson Education and without receiving any venture capital funding.
"We are proud to say that our hard work and dedication is proving that we are legitimate visionaries fighting for the future of our youth," says Dr. Nono C. Pearson.
The PET was named after the CEO of UVMF Dr. Nono C. Pearson, who professed to being diagnosed with ADHD.
The PET was first launched in the New York City Public School System last December in Queens NY. Special guests included key NYC politicians, community leaders and even superstar rapper Nicki Minaj's mother, Carol Maraj was at "The PET Rally".
This year UVMF also received the 2015 Manhattan Best of Business Award in the business service and consulting category, for marketing their education initiative with excellence to the NYC Department of Education (NYC D.O.E.), which the firm states that they are a certified NYC D.O.E. Vendor.
The team at UVMF has also developed other products and strategies that are aimed at making education cool and socially acceptable via music and entertainment. The firm is planning to give part of the proceeds of The PET back to the families who have been victimized by school shootings.
UVMF says they are currently in research and development stage for putting a safety feature that will allow students and educators to use The PET to help stop school crimes.