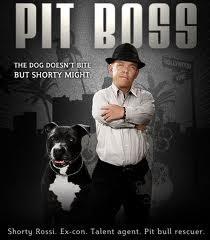 Meet Shorty & Hercules from Animal Planet's TV Show "Pit Boss"
San Diego, CA (PRWEB) February 06, 2014
K9 Dog Park is proud to sponsor FREE ADMISSION to all attendees at The San Diego Pet Expo. The event will be held Indoors at the famous Del Mar Fairgrounds and include over 150 Exhibitors. The event, which will feature Shorty & Hercules from Animal Planet's TV show "Pit Boss", will offer discount vaccinations & micro-chipping, pet costume & talent contest, Agility demonstrations, pet adoption, products, free nail trims, and tons of family entertainment & much more.
K9 Dog Park will have booth # 707 where Penny DiLoreto, ABCDT, CPDT - KA, CTDI, Professional Dog Trainer, Animal Behaviorist, Certified Dog Groomer and K9 Dog Park Owner in Escondido, California will be available to interact with attendees and answer questions about dog behavior. Some of K9 Dog Park's unique training programs like No-Shock Snake Avoidance, Behavior Adjustment Training for Aggressive Dogs, and The Magic Wand will be featured and discussed.
All pets attending the show must be on a fixed lead with proof of age appropriate vaccinations.
K9 Dog Park is the leading dog training, grooming, daycare and boarding center for southern California. K9 Dog Park is the pioneer in advanced training techniques for dogs and their owners including snake avoidance training without the use of shock-collars; Behavior Adjustment Training for reactive dogs; "The Magic Wand" dog training system, and "La Paws" training to help create a safe environment for infants, toddlers and the family dog. K9 Dog Park owner, Penny DiLoreto has more than 20 years working in the industry. Penny is a certified groomer, certified Veterinary Assistant, Dog Behaviorist, Dog Trainer and accomplished Author. K9 Dog Park is a training site for Animal Behavior College-Groomers and Dog Trainers and Regional Occupational Program (ROP).
CONTACT INFORMATION FOR K9 DOG PARK:
EMAIL: David (at) K9DogPark (dot) com
PHONE: (760) 745-3647