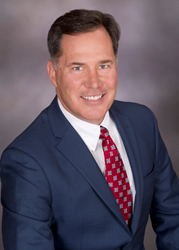 I love this business and the friendships that have developed with clients and other professionals in the industry.
Colorado Springs, CO (PRWEB) February 02, 2017
Bill Hourigan, of The Platinum Group, REALTORS, is celebrating his twenty-fifth anniversary as a real estate professional. "I love this business and the friendships that have developed with clients and other professionals in the industry," said Bill, who was recently named a 2016 American Institute of Real Estate Professionals 10 Best in Colorado for Client Satisfaction.
Bill is renowned for taking the real estate profession and his responsibility to his clients very seriously. "The transactions have become much more complex and legal. It's important to me and to my clients that I maintain the highest level of competency that only experience and continued education can accomplish," added Bill. What Bill and his business partner/wife Pam do best is help navigate their clients through the difficulties and challenges that will arise in the course of the transaction and work towards a successful resolution with their clients' best interest in mind.
"Bill always goes the extra mile, and his customer service is just unbelievable," said Pam . "His knowledge of real estate is quite extensive and helps us keep transactions together that might otherwise fall apart."
During the course of his illustrious twenty-five-year career, Bill has collected an impressive amount of awards and real estate designations. He is a member of the Elite 25 and Peak Producers, and is a Graduate, REALTOR® Institute (GRI), Certified Residential Specialist (CRS) and Certified Negotiation Expert (CNE). His networking with these groups is a huge advantage to his clients as 90% of the business is done by 10% of the agents.
About Bill Hourigan, The Platinum Group, REALTORS
Bill's primary goal is to provide his clients with a level of service and care that far surpasses any service they have experienced in the past. To achieve this, he understands that his focus must always be on his clients' best interests. Bill believes that continual education, market awareness and delivering constant communication throughout the process is essential to winning the confidence and trust of his clients. For more information, please call (719) 332-8569, or visit http://www.teamhourigan.com.
About the NALA™
The NALA offers small and medium-sized businesses effective ways to reach customers through new media. As a single-agency source, the NALA helps businesses flourish in their local community. The NALA's mission is to promote a business' relevant and newsworthy events and achievements, both online and through traditional media. For media inquiries, please call 805.650.6121, ext. 361.