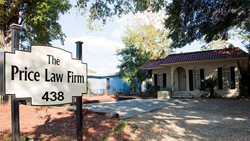 Who's Fighting For You?
(PRWEB) April 09, 2017
The Price Law Firm, who are personal injury lawyers in Panama City, Fl, would like to introduce the newest member of their Attorney trial team; Eric Van Loock.
Eric Van Loock, a former prosecutor in multiple jurisdictions, has joined The Price Law Firm as an Associate Attorney. His practice will focus on assisting clients in personal injury cases and trial practice.
Mr. Van Loock was born and raised in Mobile, Alabama, where he attended McGill-Toolen Catholic High School and the University of South Alabama, where he took courses under the BSN nursing program. Mr. Van Loock's extensive medical training and education makes him the ideal candidate for handling serious automobile and trucking accident cases with significant injuries.
After graduation from the Cumberland School of Law in 2004, Mr. Van Loock was admitted to the Alabama Bar in 2005, the Florida Bar in 2009 and the Alaska Bar in 2013. Mr. Van Loock served as an Assistant State Attorney in Panama City, FL from 2009 to 2012 and subsequently served as an Assistant District Attorney in both Barrow and Fairbanks, AK. Over the course of his career Mr. Van Loock prosecuted cases in the juvenile, misdemeanor and felony divisions including several successful jury trials and Grand Jury presentations.
Mr. Van Loock ended his tenure in public service to help the people in his own community in Panama City, FL, where he now calls home. While handling hundreds of cases and trials, working thousands of hours in the courtroom, Mr. Van Loock has proven to be a formidable challenge to insurance companies who seek to deny his clients' claims as a result of motorcycle accidents, auto accidents and trucking accidents.
With medical training and extensive trial experience, Mr. Van Loock evaluates each case with an eye for detail. Whether it be herniated or bulging discs, typical spinal injuries from rear end collisions, or more serious traumatic brain injuries, it is critical for an attorney to evaluate each unique case with a trained eye, like Mr. Van Loock's. Every injury and wrongful death case is different, and Mr. Van Loock's training, education and experience helps his clients throughout the complex legal process.
The Price Law Firm and our clients are pleased to announce this addition to the staff and look forward to serving many more people in the years to come!
The Price Law Firm prides themselves on their dedication and commitment to every case they handle. The client always comes first, and it is our goal to strongly pursue the optimum recovery for each and every client, instead of fast devalued settlements. At The Price Law Firm, our team devotes time and resources to each case to ensure justice and fairness for those who are injured. The Price Law Firm are specialized Car Accident Lawyers in Panama City and work tirelessly to obtain the optimum recovery for each and every client.
The Price Law Firm
438 N Cove Blvd,
Panama City, FL 32401
(850) 215-2195