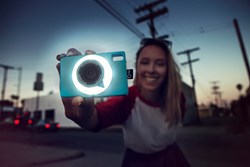 We aim to make photography easy, fun, and available to people wherever they want to take and share high-quality photos.
New York, NY (PRWEB) August 20, 2013
Q Lifestyle Limited today announced the availability of theQ camera. Stylish, smart and sturdy, theQ is an easy to use digital camera designed for immediate social sharing. With each part of the photography experience seamlessly connected, users can upload photos to their social networks including Facebook, Twitter and Tumblr with one button. More information is available at http://www.theqcamera.com.
"With over 500 million photos uploaded and shared daily, more than double the amount from two years ago*, the market is ripening for socially connected devices," said theQ CEO Steven Christensen. "We aim to make photography easy, fun, and available to people wherever they want to take and share high-quality photos."
Every aspect of the pocket-sized camera can be controlled, from the social media settings through to the built-in photo filters. In addition to the one-button upload for social sharing, theQ users receive unlimited storage on their theQ LAB personal photo archive page. TheQ camera features theQ light, a low-level ring flash built into the camera design that enables users to take beautiful photos at night.
"Night owls will love theQ light ring flash feature. I was consistently underwhelmed with the smartphone pictures I took at parties, concerts and of beach sunsets on vacation," said theQ co-founder Brandon Ricci "TheQ light helps you create brilliant nighttime photography wherever you are."
TheQ has a 5-megapixel camera with a 24mm wide-angle lens and a F2.4 aperture. The camera has a manual focus lens and three pre-set capture modes for automatic camera control.
Using 3G connectivity**, theQ users can transfer photos from anywhere without a memory card. TheQ light flash ring includes a self shot countdown timer, and the flash ring doubles as a battery indicator for the built-in rechargeable battery.
It's available in nine fashion colors including Aqua, Ketchup, It's My Jam, Mustard, Berry Fields, Ice Baby, Cupcake, Peppermint, Coffee Black. TheQ camera measures 3 inches by 4 inches, and weighs in at just 4.2 ounces.
Featuring a 2.7-inch display, theQ camera is waterproof up to 3 feet. It comes with nine image filters and 2GB of internal memory stores, which stores up to 1,000 still images (at 200KB per picture).
Pricing and availability:
TheQ camera is available to pre-order today at http://www.theqcamera.com. ***
The retail price is: $199.00 Price includes shipping. Local taxes are applicable.
Notes:
*Mary Meeker's Internet Trends presentation, 2013
**3G SIM is required. Customers can buy a local SIM or check with their mobile carrier whether their existing mobile plan allows for an extra SIM card for a shared data pool. More information is available on theQ FAQ website: http://www.theqcamera.com/support.php
***Pre-orders available in Australia, Austria, Belgium, Canada, Chile, China 中国, Czech Republic, Denmark, Estonia, Finland, France, Germany, Greece, Hong Kong Sar, Hungary, Iceland, Ireland, Israel, Italy, Japan, Korea, Luxembourg, Malaysia, Mexico, Netherlands, New Zealand, Norway, Poland, Portugal, Singapore, Slovak Republic, Slovenia, South Korea, Spain, Sweden, Switzerland, Thailand, Turkey, United Kingdom, United States
****theQ works with social networks including Facebook, Twitter, Tumblr, Blogger, Google+, Flickr and Email
About Q Lifestyle Limited
Q Lifestyle was founded in 2012 with a mission to create products that are as technologically innovative as they are aesthetically appealing. The company's first product, theQ camera, brings digital photography and design together with the modern consumer lifestyle. Headquartered in Stockholm, Q Lifestyle has offices in Hong Kong and team members around the world. Q Lifestyle is backed by Varenne, a leading Scandinavian Investor. More information is available at http://www.theqcamera.com.