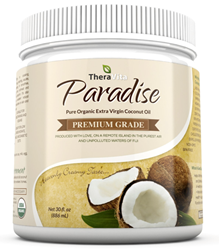 (PRWEB) June 30, 2014
Thera Vita Paradise, a line of extra virgin coconut oil that is also USDA certified and is one of the top rated coconut oil products available on the market has caught the attention of Jordan Victors, prompting an investigative review.
"Despite what many people think, all coconut oil is not made equally," says Victors. "There is a wide variation in the quality and nutrition of various coconut oil brands available on the market, with some being far inferior to others because of how the product is processed from the time the coconut actually leaves the tree. Thera Vita Paradise is one of the only coconut oils that maintains the true integrity of the product at every step of the process."
Coconut oil has proven to be one of the healthiest fats available that helps the body burn bad fat and is also beneficial for skin, hair, and disease prevention. However, many coconut oils on the market are processed in a way that compromises the true integrity of the oil, diminishing its benefits or even threatening its safety. The best coconut oil products have several main elements that guarantee ultimate quality. These elements are that the oil comes from fresh, certified USDA organic coconuts, free from fertilizers and pesticides, and also that the oil itself is non-hydrogenated, non-deodorized, unrefined, and non-bleached. The best coconut oils are extracted using a pressing machine (not chemicals) in a cool, controlled environment to preserve the nutrients in the oil. They are also free from hexane, which is a petroleum-based chemical that is often used to get higher amounts of oil from the extraction process. Top rated coconut oil does not contain genetically modified organisms, is non-fermented, is free from solvents and chemicals, and is made from the first pressing of raw coconuts. Thera Vita Paradise coconut oil has all of these qualities, and is made from the freshest coconuts from the islands of Fiji. Available for convenient shipping from Amazon, Thera Vita Coconut oil is currently available in 16 oz. or 30 oz. containers.
"Anyone looking to get the maximum benefit from the coconut oil they incorporate in their diet or use for skin care purposes will find the solution in Thera Vita coconut oil," says Victors. "The product in their container really is as close as it gets to having a real Fijian coconut in your hands."
"What's even better is that Thera Vita offers a 100% money-back guarantee with their product to make sure that everyone who tries it is totally satisfied with the benefits it offers."
Those wishing to purchase the extra virgin organic coconut oil made by Thera Vita Paradise, click here.
To access a comprehensive coconut oil extra virgin organic review, visit their official Amazon.com page here.