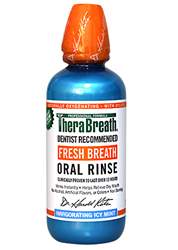 TheraBreath mouthwash scored a near perfect score of 9.9 out of a possible 10.
Los Angeles, CA (PRWEB) December 17, 2015
TheraBreath, a leader in the field of fighting bad breath, makes the cut on two "best of" Mouthwash lists.
TheraBreath Mouthwash tops Comparaboo's list of "The 10 Best Mouthwashes." The list, compiled in July of 2015, ranks mouthwashes based on an index of factors including user reviews, popularity, and ingredients. The results were compiled from a pool of more than 27,500 reviews. TheraBreath scored a near perfect score of 9.9 out of a possible 10. The score breaks down as follows:

Quality 9.9/10.0
Opinion 9.5/10.0
Popularity 8.5/10.0
The winner by a clear margin, the runner-up scored an overall score of just 8.4, more than a full point behind TheraBreath.
TheraBreath also made the cut on Kinja Co-Op's list of top five best mouthwashes. This list was based solely on popular opinion ranked TheraBreath second overall, earning nearly 24 percent of the popular vote. This poll was compiled based on more than 6,000 responses to a user poll.
TheraBreath Mouthwash is scientifically engineered to instantly cure bad breath. Available in a multitude of flavors and strength levels, TheraBreath is designed to cure more than just bad breath, focusing also on dry mouth and tonsil stones.
While these rankings speak exclusively to the popularity of the TheraBreath Mouthwash, TheraBreath is pleased to offer a variety of breath freshening products including toothpaste, sprays, drops, gum, and mints.
About Dr. Katz, Founder of TheraBreath ®
Dr. Harold Katz is the recognized expert in the fields of bad breath, dry mouth, and tonsil stones. Known as the "Bad Breath Guru" from his numerous appearances on shows like "The View" and the CBS "Early Show," he has helped millions of people around the world eliminate their bad breath problems. He is a graduate of UCLA and the UCLA School of Dentistry and has a degree in Bacteriology, also from UCLA.
About TheraBreath ®
Since the introduction of TheraBreath® products in 1994, Dr. Katz has helped more than six million people in 98 countries fight bad breath through the use of the TheraBreath® System formulas, which help eliminate bad breath and allow users to gain newfound self-confidence. TheraBreath® is the world's top premium oral care system and has offices in Los Angeles, California. To learn more, visit us online http://www.therabreath.com.