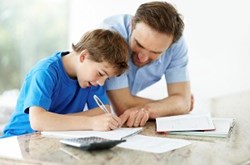 Many families struggle with the homework issue, but with a little help from parents and guardians, doing homework can become a positive learning experience for children of all ages.
San Diego, CA (PRWEB) December 02, 2013
The battle between parents and children over the need to do homework has raged since the days of one-room schoolhouses. And with all the distractions of cell phones, social media, and the pace of modern life, many of today's parents are finding it harder than ever to get youngsters to hunker down and complete their homework assignments. Dr. Rochelle Perper, a prominent San Diego family therapist, recently published a short guide to help parents who feel like they are losing the battle.
"Homework is important because it's often one of the first ways kids learn responsibility," says Perper. "Learning how to read and follow directions independently, how to manage and budget time for long-term assignments, and how to complete work neatly and to the best of their ability are skills children need for life. Many families struggle with the homework issue, but with a little help from parents and guardians, doing homework can become a positive learning experience for children of all ages."
The guide, which can be downloaded from the Therapy Changes website, includes the following suggestions:
Create a Study Zone. The homework location needs to be free of clutter, well lit and quiet, without the distractions of the television, other children playing, or people talking on the telephone.
Select a Homework Time. Choosing a regular time every day to do homework will not only help kids mentally and emotionally prepare for homework, it will also help them enjoy their free time more.
Take Occasional Breaks. Adults know the importance of stretching their legs or taking a break here and there during the workday. The importance of breaks applies to children as well, and may be even more important because kids tend to be more active and full of energy than adults.
Use a Planner to Write Down Assignments. Help children manage their assignments by planning out the work on a daily planner. Writing down what needs to be done can be a great way to manage homework. Crossing off completed assignments can give children a sense of satisfaction and motivation to continue their work.
Get Organized. Kids can often feel overwhelmed when they look over their list of assignments. Let them devise their own color-coding system to track assignments and stay organized. Select a single color for each class and use that color for each homework folder.
Work Alongside the Child. Younger children in particular tend to work better when an adult is nearby to answer questions or help work out a problem. Keep in mind that the idea is to help children when needed, not do their homework for them.
Review Completed Homework. Check up on homework every day, challenging children to check off all the items on their list and encouraging them to review their work for any errors. A relaxed approach to homework and a fun attitude about it will encourage children to follow suit.
Provide Rewards. Congratulate children on a job well done by rewarding them with something special. Rewards don't have to cost money, and can include a family movie night, a "date day" with mom or dad, a sleep-over with a friend, or an extra book before bed. Rewards serve as powerful incentives to keep children motivated and on track.
Some kids experience more stress over homework and schoolwork than other children. If a child shows signs of stress or is experiencing ongoing difficulty with the workload, consider meeting with a therapist to learn more about the child's unique approach to learning. A therapist can also help to mediate ongoing parent/child conflicts regarding homework.
"These days, homework starts as early as kindergarten, so it's a good idea to get kids into a rhythm of great homework habits as soon as possible," says Perper. "Even if your child is a bit older, it's never too late to develop great study habits."
About Dr. Perper
Rochelle Perper, Ph.D., is a licensed Clinical Psychologist in California, offering professional therapy services throughout San Diego County. Her action-oriented therapy can be customized for individuals, families and couples, with unique services available for adolescents and children. Recognized for her compassion and skill in helping clients manage difficult transitions, including grief due to loss of a loved one, Dr. Perper is available for speaking engagements, training sessions, and educational workshops. For more information, click here.