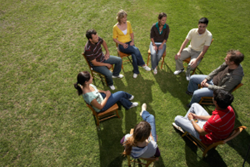 Our therapy helps people struggling with life's difficult transitions.
San Diego, CA (PRWEB) May 14, 2014
Today, Therapy Changes announced the start of three new group therapy sessions. Created for individuals to learn more about themselves and others in a safe environment, every session is moderated by a licensed psychologist to guide conversation.
"Our therapy helps people struggling with life's difficult transitions. We're excited to offer this to individuals in the San Diego region seeking the skills to reach their goals in a safe, supportive and understanding environment," says Rochelle Perper, Ph.D. and founder of Therapy Changes.
The group therapy sessions cover three areas:
Strength in Numbers
Tailored for adult survivors of childhood sexual abuse, group facilitators trained in the area of trauma will work with group members to create a safe place for members to share and connect. Some topics may include self-care, understanding emotions, and healthy coping strategies, physical and emotional boundaries, creating safety, healthy relationships, effective communication and improving a sense of self-worth.
Hope After Loss
A support group for individuals who have experienced a loss by death. Group members will have the opportunity to share and connect with others who have had similar experiences. In addition, the third session of each month will be an educational group covering topics around grieving.
Finding Balance
For community members looking to find balance in their lives through healthy living, stress reduction, and building strong relationships. Group facilitators will introduce you to "stress-busting" interventions that you can start using right away to better manage every-day stressors such as time management, finances, kids, relationships, work-related problems, and chronic pain and illness.
More information on group therapy is available on the Therapy Changes website.
###