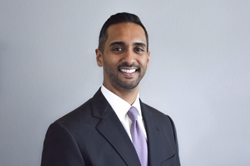 "I'm inquisitive, have a great attention to detail, and provide informed and tailored treatment plans."
AUSTIN, Texas (PRWEB) November 15, 2018
Austin, Texas has welcomed Podiatrist Dr. Shine John, DPM to a new location near Barton Creek. Dr. John has been in Podiatry for over 10 years as a Fellowship-trained, Board Certified Foot and Ankle Surgeon; he was even selected as a 2018 Three Best-Rated Podiatrists in Austin, as a step up from being awarded the Texas Podiatric Medical Association, 2015 Young Practitioner of the Year Award. Dr. John is eager to continue providing exceptional service to his current patients and to share his love for Podiatry with new ones.
Dr. Shine John, DPM works with everyone, from athletes to active adults to children to those who are looking for a second opinion on their previous Foot and Ankle diagnoses. Because Dr. John had misdiagnosed foot, shin, and knee problems related to Foot and Ankle issues when he was a young child, he knows what it's like to feel like your pain is untreatable. Dr. John takes a different approach to Podiatry. Instead of pigeonholing your symptoms, Dr. John thinks outside the box and works hard to find the actual source of your pain to help you find relief.
"I'm inquisitive, have a great attention to detail, and provide informed and tailored treatment plans."
Dr. Shine John, DPM takes his Christian faith very seriously and models his practice after those values; it is important that patients are treated respectfully and ethically. Dr. John also believes it is his duty to treat your Foot and Ankle issues as uniquely and individually as you are, no matter how long it takes to find the source of your discomfort. Building relationships with his patients is as much a part of his job as diagnosing and treating your Foot and Ankle issues.
"I'm not in a rush to see you and leave, I'm in a rush to get you better. I make plans that are both short and long-term, so you can live your life without pain and discomfort! You're not just another chart."
Dr. Shine John, DPM is located within the Bee Cave Urgent Care at 11614 FM2244 (Bee Cave Road) Suite 130, Austin, TX 78738 and is now accepting appointments. Schedule your consultation today at https://www.capitalfootandankle.com/contact.html or call (512) 474-6666. Learn more about Dr. John at https://shinejohn.com/.