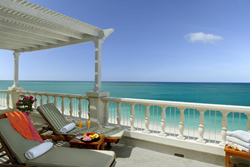 Company Director Robert Greenwood was noted as saying: This property is a real estate investment that should not be overlooked. Extremely competitively priced in today's market in what is considered one of the most preferred addresses in the Caribbean…
(PRWEB) May 22, 2014
Top-selling brokerage Regency-Christie's International Real Estate is proud to bring to market this stunning Penthouse at the Regent Palms, a new Turks and Caicos property boasting the most luxurious amenities available on the islands.
From its classic Barbadian style, lush tropical landscaping, award-winning spa, fitness facility, restaurants and full turn key management, the Regent Palms was built to enhance ownership, well-being, mind, body and soul. Combined with the welcoming nature of the islands' people, the Regent Palms is one of the most favorable and desirable investments offered in the Turks and Caicos Islands.
The property's eloquently-appointed penthouse undoubtedly represents one of the Caribbean's most classic designs, interlaced with superior 5-star service. Elevated above the world-renowned and award-winning Grace Bay pristine beaches, this luxury residence boasts a total of 3,400 square feet of architectural grandeur. From the beautifully-designed open living concept with unobstructed views of the beaches and magnificent turquoise water views from its entry foyer, this 3 bedroom, 3.5 bathroom penthouse is ideal for any family seeking a unique vacation home destination.
Boasting modern appliances and elegant furnishings, the unique penthouse also provides large sliding glass doors that open onto large private terraces complete with magnificent views. Covered by a shaded trellis, an ample lounge and outdoor dining area add to the sophisticated setting of luxury living in paradise.
The penthouse also includes a cleverly-designed floor plan incorporating what is known as "lockout suites" -- self-contained studio suites with rear garden terraces strategically placed to allow for private entrances. This maximizes full use of the entire property, allowing individual use of each lockout suite to ensure privacy for visiting friends or possible tenants.
The Turks and Caicos Islands offer a myriad of benefits for both real estate investors and individual homeowners alike.
Located just 575 miles southeast of Florida and with many direct flights from Miami, New York, Boston, Atlanta, Miami, Toronto and London, it is no wonder why Regency-Christie's International Real Estate clients make this their preferred destination in the Caribbean.
The islands are overseen by the United Kingdom and are therefore under British governance, so the laws and customs of the Turks and Caicos are very much like that of the UK. While the simplicity of the process is a key attraction, the security and confidence of owning a property where the owners' title is guaranteed and protected by the British Crown is of paramount importance to our clients.
There are also no restrictions for foreign investors to purchase or hold property.
Real estate investment is a way for potential buyers to diversify their portfolios. Property values remain steady even when stock values fluctuate and have the potential to evaporate entirely. Additionally, land values in the islands have been increasing. The Turks and Caicos Islands offer a variety of tax benefits for investors as well: no annual property taxes, no capital gains taxes on property transfers and no income taxes on revenue generated from the property.
An investment in this penthouse is a real estate opportunity that should not be overlooked; it its amazing price is a one-time opportunity in what is considered to be one of the most preferred addresses in the Caribbean.
About Regency-Christie's International Real Estate
Drawing upon their success as one of the world's oldest art auction houses, Christie's implemented an innovative real estate venture in 1995. Integrating centuries of experience with a hand-selected network of talented brokers, Christie's International Real Estate was formed to satisfy the lifestyle requirements of discerning clientele. The marketing of fine art and high-end properties proved to be a natural combination, resulting in a real estate marketing powerhouse driven by the passion and success of the Christie's name and the local connections and expertise of seasoned brokers.
Please visit http://www.christiesrealestate.com/eng for more information.