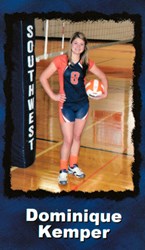 Our mission at The Right Solutions is to comfort and restore lives [...] to help support and encourage Dominique is a great way for our staff to comfort and restore a life - first hand.
Tontitown, Arkansas (PRWEB) November 20, 2013
The Right Solutions has a very special place in their hearts for Dominique Kemper because she is the granddaughter of one of their nurse recruiters and a remarkable young lady with an inspiring story. Last year Dominique and her mother approached TRS to ask if they would help Dominique by raising money. The Right Solutions gladly accepted and conducted a fundraiser amongst the employees of TRS. This year they are doing the same and reaching out to caring individuals to help Dominique raise the money she needs to continue her dream.
When I asked Taylor Faught, CEO of The Right Solutions, why this project was important to him this is what he had to say, "Our mission at The Right Solutions is to comfort and restore lives. Our healthcare providers get to fulfill our mission first hand on a daily basis. The opportunity to help support and encourage Dominique is a great way for our office staff to do the same as our healthcare providers, comfort and restore a life – first hand. The cards of life were stacked against Dominique and she had no hope of overcoming her situation. I am so proud that members of our team have been able to assist Dominique and stack the cards in her favor. She is a tremendous young lady and it has been truly amazing to see her grow and succeed in life. I cannot wait to see what she accomplishes."
Dominique's Story:
In 2006, Dominique met a family that would forever change her life. Renee Kemper, her husband and son moved to an area near Beaver Lake (Arkansas) in 2006. Dominique, at the time lived with her biological father and became instant friends with Renee Kemper's son. Soon after they had moved into the neighborhood, Dominique's father asked Renee if she could help take care of Dominique while he worked. Renee was more than happy to help. Renee began to notice that Dominique was a troubled child. She was not doing well in school, had a hard time controlling her anger, could barely read, and did not open up or communicate well with others. Renee began to fear that things at home were abusive.
In June of 2008, Renee's fears were realized. Dominique complained of back pain while she was changing into her bathing suit. Renee went in to check on her and discovered that Dominique's back and legs were covered in bruises. While Renee was trying to figure out who to call first, DHS or the Police, Dominique's Father showed up at the door. Angry, Renee confronted Dominique's father and called the police. The police and a representative from DHS arrived within 20 minutes. What Renee heard next broke her heart.
"As I heard her (Dominique) explain to them (the Police) what her father had done, I could not help but cry my eyes out. He had accused her of stealing some change from his closet. When she told him that she had not done it that angered him even more. So as she lay on her bed, he beat her from head to toe with his belt," Renee explains.
Dominique was taken into foster care. Renee never lost touch with her and in the middle of July she was summoned to court and was granted permission to bring Dominique home to live with her and her family. In March of 2010 Dominique's adoption became final and she was officially a member of the Kemper family.
All of this occurred when Dominique was eight. She is now fourteen, an honor roll student, skilled volleyball player and the sweetest girl you would ever meet. Rather than pity herself and her situation, Dominique has taken control of her life and is very proud of her accomplishments.
How Individuals Can Help:
Dominique is a very skilled volleyball player and is often asked to play in special leagues; however, these leagues are very expensive but very necessary for her to fulfill her dream of playing collegiate volleyball. And although she has a very loving and supportive family, the financial burden is more than they can afford. This year she has been asked to participate in the Ozark Junior Competitive Volleyball League, a nonprofit organization, and needs help raising the fees to participate. The fees go to pay for uniforms, equipment, officials and tournaments.
The Right Solutions is asking that if you are inspired by Dominique's story to please help by giving. You can donate to keep Dominique in this special league, a necessary road to reach her goal, by visiting http://www.dkempervolleyball.com/how-you-can-help.html.
About The Right Solutions:
The Right Solutions is a medical staffing company supplying travel RNs, LPNs and Allied Professionals to medical facilities throughout the US in the state, public and private sectors. TRS' mission is – to Comfort and Restore Lives throughout the Nation; from large teaching hospitals to remote clinics and everything in between.
The Right Solutions provides quality travel nurses to medical facilities that require short term staffing to meet their employment shortage needs. TRS has travel nurses eligible to work throughout the US in a variety of specialties and environments. The company was one of the first healthcare facilities to go through The Joint Commission accreditation and receive The Joint Commission certification. TRS is nurse owned and located in Tontitown, Arkansas. For more information visit: http://www.therightsolutions.com or call 888-987-8233.