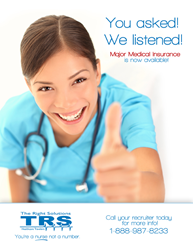 Insurance has been one of our nurses' number one concerns, so we have made it our number one priority.
Tontitown, AR (PRWEB) June 13, 2014
The Right Solutions (TRS) announced on Friday there will be some major changes to their insurance policies beginning July 1, 2014. TRS will be adding several new insurances, and reforming other policies to be compliant with the new Affordable Care Act requirements while satisfying the needs of their traveling Healthcare Professionals.
TRS will now be offering major medical insurance, short term disability "Paycheck" insurance, long term disability insurance, pet insurance, voluntary group life insurance, and permanent term life insurance. They have also made improvements to their dental and supplemental insurance plans. Open enrollment will begin June 11, 2014 and will last until June 24, 2014.
According to The Right Solutions these changes were made to better serve their Healthcare Professionals. "Our nurses asked and we listened. We pay close attention to our travelers comments and work to make improvements where they ask. Insurance has been one of our nurses' number one concerns, so we have made it our number one priority," says Tracy V, TRS Social Media Coordinator.
To take it a step further, The Right Solutions has hired a team of dedicated specialists to help their nurses with all their insurance needs. This dedicated team is part of The Hatcher Agency and will be available to all of The Right Solutions' healthcare professionals, answering questions, fielding paper work and ensuring that they get the insurance they need. This insurance team can be contacted at 501-375-3737 and as always The Right Solutions' HR department will be available as well at 888-987-8233 ext. 385.
About The Right Solutions:
The Right Solutions is a medical staffing company supplying RNs, LPNs and Allied Professionals to medical facilities throughout the US in the state, public and private sectors. TRS' mission is to Comfort and Restore Lives throughout the Nation, from large teaching hospitals to remote clinics and everything in between.
The Right Solutions provides quality travel nurses to medical facilities that require short term staffing to meet their employment shortage needs. TRS has travel nurses eligible to work throughout the US in a variety of specialties and environments. The company was one of the first healthcare agencies to go through The Joint Commission accreditation and receive The Joint Commission certification. TRS is nurse owned and located in Tontitown, Arkansas. For more information, visit: http://www.therightsolutions.com or call 888-987-8233.