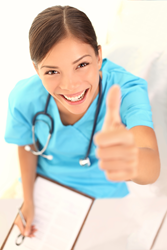 ...helping aspiring nurses achieve their career goals, we help not only the nurses but ultimately the patients too.
Springdale, Arkansas (PRWEB) April 16, 2014
The Right Solutions (TRS) announced Monday that they will be giving away two $500 scholarships to qualified nurse students during the month of May. They are currently accepting applications through May 16, 2014.
In order to qualify applicants must be 18 or older, US citizens, currently enrolled in a RN program with an accredited US College or University, be able to provide two references, have a 3.0 GPA or higher and must answer the question, "As a future nurse what does the phrase "Comforting and Restoring Lives" mean to you?"
I caught up with Jonathon Bishop, TRS Director of Advertising, to discuss The Right Solutions decision to create scholarships for RN students.
"TRS has provided travel nurses to facilities across the US that are under staffed for over twenty years. We recognize the need for Registered Nurses. We also realize the financial burden of school, so creating scholarships for students currently enrolled in a RN program just made sense," Jonathon explains. "When a nurse joins The Right Solutions our goal is to ensure that s/he feels like a nurse and not a number. By playing a small part in helping aspiring nurses achieve their career goals, we help not only the nurses but ultimately the patients too."
Applications for The Right Solutions Scholarships can be found on their blog. Applications are due May 16, 2014 by midnight CST. Winners will be announced May 19 and May 26, 2014.
About The Right Solutions:
The Right Solutions is a medical staffing company supplying RNs, LPNs and Allied Professionals to medical facilities throughout the US in the state, public and private sectors. TRS' mission is to Comfort and Restore Lives throughout the Nation, from large teaching hospitals to remote clinics and everything in between.
The Right Solutions provides quality travel nurses to medical facilities that require short term staffing to meet their employment shortage needs. TRS has travel nurses eligible to work throughout the US in a variety of specialties and environments. The company was one of the first healthcare agencies to go through The Joint Commission accreditation and receive The Joint Commission certification. TRS is nurse owned and located in Tontitown, Arkansas. For more information, visit: http://www.therightsolutions.com or call 888-987-8233.