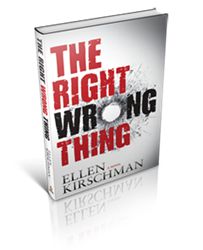 "Ellen Kirschman's richly nuanced The Right Wrong Thing rings with authenticity. This fiction is so gutsy and emotionally anchored in real life that it will stay with you long after reading its final pages." — Hallie Ephron, NY Times best-selling author
Longboat Key, FL (PRWEB) October 06, 2015
The Right Wrong Thing by Ellen Kirschman is now available in hardcover (ISBN: 9781608091546, List Price: $26.95, 260 pages, Mystery) and all digital/ebook formats (ISBN: 9781608091553, List Price: $14.95) through your favorite independent bookstore, amazon.com, barnesandnoble.com, Apple iTunes, kobo.com, and Google Books. Ask for this terrific novel through your local public library.
The Story:
Officer Randy Spelling had always wanted to be a police officer, to follow in the footsteps of her brothers and her father. Not long after joining the force, she mistakenly shoots and kills Lakeisha Gibbs, a pregnant teenager. The community is outraged; Lakeisha's family is vocal and vicious in their attacks against Spelling. Suffering from post-traumatic stress disorder, and filled with remorse, Randy is desperate to apologize to the girl's family. Everyone, including the police chief, warns her against this, but the young police officer will not be dissuaded. Her attempt is catastrophic. Dr. Dot Meyerhoff, police psychologist, plunges herself into the investigation despite orders from the police chief to back off. Not only does the psychologist's refusal to obey orders jeopardize her career, but her life as well, as she enlists unlikely allies and unconventional undercover work to expose the tangled net of Officer Spelling's disastrous course.
Meet the Author:
Ellen Kirschman Ph.D. is a clinical psychologist in independent practice. She is a member of the International Association of Chiefs of Police, the Society for the Study of Police and Criminal Psychology, the American Psychological Association, and the International Association of Women in Law Enforcement. She is the recipient of the California Psychological Association's 2014 award for distinguished contribution to psychology as well as the American Psychological Association's 2010 award for outstanding contribution to the practice of police and public safety psychology.
Ellen is the author of the award winning I Love a Cop: What Police Families Need to Know, I Love a Fire Fighter: What the Family Needs to Know, and lead author of Counseling Cops: What Clinicians Need to Know (2013). Her debut novel, Burying Ben: A Dot Meyerhoff Mystery (2013) is about police suicide told from the perspective of the psychologist. Ellen and her husband live in Redwood City, California.
The Buzz:
"Those looking for a meaningful story forged against the backdrop of a relevant social construct will enjoy going on this adventure.
Artful writing ensures a smooth and well-paced reading experience. Two examples: "as the commute traffic melts into the airport traffic" and "enormous mortgages precariously balanced on the undulating waves of an uncertain economy."
Small victories have been won for women in the male-dominated world of police work, but it is still largely powered by men. The Right Wrong Thing is brilliantly written with this dynamic in mind. Those looking for a meaningful story forged against the backdrop of a relevant social construct will enjoy going on this adventure with Randy and Meyerhoff. Not only is this a compelling read, but it is profoundly realistic.
—ForeWord Reviews Magazine
"In Kirschman's highly satisfying second novel featuring Dr. Dot Meyerhoff
(after 2013's Burying Ben), the consulting psychologist endorses young Randy
Spelling's emotional stability for service as a Kenilworth, Calif., police officer. Dot later attempts to help Randy through the guilt-ridden aftermath of a panic episode that indirectly injured Randy's partner, who blames Randy for cowardice. Intense professional and personal problems ensue for the divorced 50ish Dot after Randy, back on duty, fatally shoots Lakeisha Gibbs, a pregnant teenager who Randy mistakenly thinks is drawing a weapon. Kirschman, herself a psychologist who has served as a police department consultant, perceptively treats complex racial, feminist, personal, and political issues while providing intimate knowledge of cops' shop procedure. She also skewers self-serving superficial "Christian-based psychology" and neatly balances Dot's psychological expertise with her warmhearted humanity…."
—Publishers Weekly
"Riveting, compelling and authentic! Ellen Kirschman's been-there done-that experience makes this a real standout. She gives readers not only a terrific story, but a chilling insight into the hidden dangers police officers face every day."
—Hank Phillippi Ryan, Agatha, Anthony, and Mary Higgins Clark award winning author of Truth Be Told
"Ellen Kirschman's richly nuanced The Right Wrong Thing rings with authenticity. This fiction is so gutsy and emotionally anchored in real life that it will stay with you long after reading its final pages."
— Hallie Ephron, New York Times best-selling author of Night Night, Sleep Tight
"Kirschman understands cops inside and out and writes a sure-handed tale here. The Right Wrong Thing is gripping, honest, knowing, and so very human."
— Sgt. Adam Plantinga, author of 400 Things Cops Know; Street Smart Lessons from A Veteran Patrolman
"Ellen Kirschman knows and understands the police world and The Right Wrong Thing is an intense and very timely read. Thoroughly recommended."
—Simon Wood, the Anthony Award winning author of The One That Got Away
"Key to any fictional portrayal of law enforcement is an in-depth understanding of their specific psychological challenges and the pressures under which they operate. Luckily for us, Ellen Kirschman is not only a terrific writer, but an award-winning professional police psychologist. If you're looking for a taut, suspenseful crime thriller with vivid, fully realized characters, look no further--you've found it in The Right Wrong Thing."
—Kelli Stanley, award-winning author of City of Ghosts
"Ellen Kirschmann's Dot Meyerhoff is the most intriguing character in contemporary fiction. Her narrations remind me of a cabbie I had in Istanbul. He drove too fast, took me down dead ends and through dangerous neighborhoods. He yelled at pedestrians and cursed at dogs. And just when I finally decided he was hopelessly lost, he delivered me safe and sound to just they place I wanted to be and left me on the sidewalk, shaking and smiling."
—J. Michael Orenduff, award-winning author of the "Pot Thief" murder mystery series
"Ellen Kirschman is a no-nonsense writer. She manages to set the scene smartly, populate it with sharply drawn personalities, and pour the story over us without wasting a word. Her confident wit, energetic prose, and special insight into the workings of the human mind make The Right Wrong Thing an outstanding read. In this timely novel of strained community relationships, where police department psychologist Dr. Dot Meyerhoff is held hostage in a way, there's no relief from the suspense and the exciting journey into the motivations of people on both sides of the law. But even as Dot is pushed to the limit, she's determined to do the next right thing, no matter the cost.
—Camille Minichino, physicist and award-winning author of the Periodic Table mystery series
THE RIGHT WRONG THING is available through booksellers and public libraries everywhere.