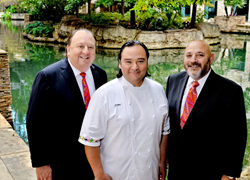 "We look forward to being an integral partner to the success and expanded presence of San Antonio." President and CEO of The RK Group, Greg Kowalski
San Antonio, Texas (PRWEB) May 29, 2015
The RK Culinary Group, LLC is pleased to announce its award of a decade-long catering and concessions contract at the Henry B. Gonzalez Convention Center. The RK Culinary Group, LLC is comprised of partners: Greg Kowalski, President and CEO of Catering by Rosemary, Inc.; Chef Johnny Hernandez, founder of True Flavors, LLC; and Richard Ojeda, co-founder of Black Ties Affairs, Inc. On May 2, 2015, The RK Culinary Group LLC members converged at City Council Chambers to learn of City Council's final decision in their favor.
The new contract enables The RK Culinary Group, LLC to contribute a diverse spectrum of event service expertise, as well as a restaurant quality dining experience for convention center event attendees.
Kowalski explains, "As transformation continues and culminates in a center of landmark proportions and event capabilities, The RK Culinary Group will be there delivering the highest quality food and event amenities. Our team will also continue to work with our city's leaders, its residents and members of the business community to maintain and raise San Antonio's profile as a top hospitality and tourism destination."
Kowalski is also President and CEO of The RK Group, which is the umbrella organization that owns Circa Destination Management, Illusions Rentals and Design, Flair Floral and Rosemary's Catering.
The convention team is anticipating improving efficiency and the planning experience during this next stage of business. By leveraging the suite of services offered by The RK Group companies, planners and corporate clients will save time, effort, and financial resources.
Jeffrey Magatagan, Senior Vice President, The RK Group, at the Convention Center, says, "Our team is super excited to be continuing our service at the Center, and we can't wait to move forward with the expansion, and all the new ideas that we proposed. Some of the new things we'll be implementing are additional new food spaces with some really original and versatile concepts as well as more customizable and expanded menus."
As part of the commitment to the Henry B. Gonzalez Convention Center, The RK Culinary Group, LLC plans to continue its commitment to the highest quality culinary presentation and diversity of on-site guest dining options. A web-based app is currently being developed internally to leverage technology and improve the visitor experience at the Henry B. Gonzalez Convention Center.
###
About RK Culinary Group, LLC: This represents the continued collaboration of three top-tier San Antonio catering firms, which includes The RK Group, True Flavors, and Black Tie Affairs. After serving as the sole caterer at the Henry B. Gonzalez Convention Center ("Facility") from 1972, The RK Group joined forces with Black Tie Affairs in 1996 and formed The RK Group, LLC to provide more staff, administrative savvy and sales and marketing expertise. This expanded team advanced its efforts through detailed planning, impeccable execution and restaurant-quality cuisine to further establish the City of San Antonio as a premier destination choice. In 2005, Chef Johnny Hernandez brought his True Flavors Catering to the venture, adding even more local culinary and event service expertise as well as unique community insight to enhance the diverse spectrum of our comprehensive capabilities.
About The RK Group: The RK Group is an industry-leading hospitality and culinary service management company operating the nation's most distinguished event centers, museums, restaurants, hotel kitchens and convention centers. Their breadth of services includes a single, cost-efficient solution for all catering, event production and management. The RK Group is privately held and diversified through their wholly owned companies: Circa Texas, Meetings Plus, Rosemary's Catering, Illusions Rentals and Design, Flair Floral, and restaurants, Radio Milano, Milano Bar, Number 13 Prime Steak and Seafood, Capitol Grill, and The Story of Texas Cafe. For more information visit: http://www.therkgroup.com
Media Contact
Jessica Zapatero
VP Marcom
(210) 223.2680 ext 322
jzapatero(at)therkgroup.com