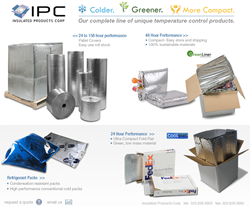 The GreenLiner Pallet Shipper acts like a mobile refrigerator that assembles easily and can be stored in your warehouse efficiently. It works great for shippers with limited storage capability.
Los Angeles, CA (PRWEB) November 25, 2013
Insulated Products Corp. (IPC), a global manufacturer of temperature control shipping insulation products and insulated packaging, announces the launch of three new products to meet the needs of shippers of heat and cold sensitive goods that desire new modes of transport. Shippers of frozen foods, pharmaceuticals, water-based paints, chemicals and prepared meals in addition to freight forwarders and other shippers of temperature sensitive products will benefit from the new insulated packaging products newly offered by IPC: the GreenLiner Pallet Shipper, the CooLiner Pallet Cover, and CooLiner Roll Stock.
The shipping industry has a keen eye on fuel prices. As fuel prices go up, so do shipping rates and fuel surcharges shippers must pay. Intermodal, rail, OTR, sea and air freight rates all base their prices largely on the fuel expenditures required to move goods from point A to point B. This is especially true in the cold chain shipping segment where fuel consumption per mile is exponentially higher compared to dry containers. As a result, shippers are faced with at least double the fees for transport using refrigerated modes compared to traditional dry modes.
"People have started looking for options," says Nick Herbon, Sales Executive at Insulated Products Corp. "As the Obama administration grapples with uncertainty in the middle east and the resulting spikes in oil prices, companies are looking for ways to keep their transport costs down. They don't like booking reefer containers due to the high cost and difficulty in booking. Refrigerated LTL shipping is still an exotic mode of transport. They are asking 'What options do we have here? '
IPC saw this as an opportunity. "We looked at the traditional "cheap" mode of transport [dry trucks] and said, OK, why don't we let people use traditional dry trucks while employing specialized thermal pallet protection to achieve the temperature requirements they need?" says Herbon.
To meet the growing demands of their customer base, namely; shippers of room temperature, refrigerated or frozen goods that are cold or heat sensitive which currently use reefer containers, IPC developed insulation products that companies can use to wrap or package their freight while using traditional dry shipping containers and freight modes.
IPC's GreenLiner Pallet Shipper is a high performance thermal pallet shipper made with 2" thick polyurethane panels encased in radiant barrier material, a tri-wall sleeve, a corrugated cap and tray. The shipper is engineered to keep products protected from extreme high or low temperatures for short or extended periods where goods can be packed using either of three types of pack-outs; no refrigerant product, refrigerant gel packs or dry ice. Nick Herbon, IPC's Sales Executive, notes: "The GreenLiner Pallet Shipper acts like a mobile refrigerator that assembles easily and can be stored in your warehouse efficiently. It works great for shippers with limited storage capability. Insulation is typically synonymous with bulky, but we have solved that problem with our unique patented knock-down and compression technologies we use to package our GreenLiner insulation panels for shipping and storage. It is different from a thermal freight blanket in that the goods will be stacked inside the GreenLiner thermal pallet shipper; wherein insulated cargo blankets are placed on top."
IPC's CooLiner Pallet Cover is a sturdy, tear-proof and puncture resistant blanket designed to cover products keeping them protected from hot and cold temperatures. The blanket was designed to provide a highly effective temperature barrier for short or extended periods, according to IPC's website. The radiant barrier material on the outside provides a high level of protection against direct sunlight, UV radiation as well as heat. The bubble layer, available in single or double layer provides additional conductive insulation. The combination of the two materials is also effective in protection against cold ambient temperatures. The thermal pallet covers can be customized for different pallet sizes, ensuring all shipping needs are met.
"The CooLiner Insulated Pallet Cover is helpful for clients that want a solution that can be placed over their freight like a hood or shroud. " says Charles Veiseh IPC's President. "This way, no re-stacking is required. Some companies do not have the option of re-stacking freight due to changes in configuration and obvious added labor."
IPC also produces CooLiner Roll Stock using the same special metalized materials and high performance bubble material to produce a thermal sleeve material providing a high level of protection against cold and hot ambient temperatures. IPC utilizes the same technology from its small package protection product line, namely CooLiner Insulated Box Liner and foil insulated bags, on a grander scale to accommodate pallets and large freight. IPC notes that thermal sleeves can be used in conjunction with dry ice to ship such goods as frozen foods.
These products were developed to meet shippers' needs by providing affordable and eco-friendly thermal insulation. Nick Herbon explains, "By implementing high performance passive insulation like the GreenLiner and CooLiner, companies are successfully cutting costs by using slower and less exotic modes of transport, and in turn they are consuming less fuel. It's wonderful to be a part of!" Herbon indicates that there are political circumstances affecting business today; "the government shutdown brought forth new customers that were worried that their goods would be stuck in customs for extended periods and need of more protection against heat."
About IPC
Since 1999, IPC has manufactured and provided quality temperature control materials for the cold chain shipping industry including thermal shipping bags and insulated pallet shrouds. All of IPC's temperature control materials provide high performance while remaining space-efficient and green. IPC operates a modern, self-sustained manufacturing plant in Los Angeles, California, and its clientele includes Fortune 500 companies.