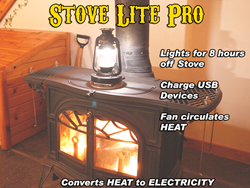 Converts heat to electricity, and electricity to light.
Randolph, VT (PRWEB) November 18, 2014
Tegpro, The Thermoelectric Products division of LEDdynamics, Inc., today announced a Kickstarter campaign to raise funding for a "retro-looking" lantern that converts wood stove heat to electricity, using thermoelectric power generation technology. The product is aimed at wood stove owners who live "off-the-grid" or are preparing for a power outage, but the lantern can also save money when used as an alternative to traditionally-powered room lights.
The Stove Lite Pro uses the generated electricity to produce up to 200 lumens of LED light, as well as charge an on-board battery that can continue powering it for up to 8 hours after removal from the heat source. It also charges USB devices, and circulates heat with its built-in fan. As an added benefit, the intensity of the LED light serves as an indicator as to when it is time to put more wood on the fire.
The Stove Lite Pro can be pre-ordered via Kickstarter for as little as $149, until December 4, 2014. A cheaper model, the Stove Lite Basic, is available at $109, featuring only the heat-powered light functionality. If the campaign reaches its funding goal, estimated delivery is July, 2015. For more information, visit http://www.stovelite.com