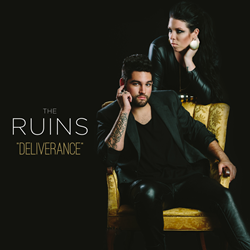 "'Deliverance' is more than a song for us. It is the catalyst to tell a story and talk about all the things in this world that try to keep us trapped; which for some of us, is ourselves."
Nashville, TN (PRWEB) May 19, 2016
New Christian Pop Duo The Ruins makes their debut with their new single "Deliverance," this past Friday the 13th, which is now available now on iTunes. The Atlanta-based group comprised of longtime friends and musical partners, Debra Black and Victor Gonzalez, will kick off their 2016 new album release and tour this Friday, May 20 at West Ridge Church in Dallas, Ga.
"'Deliverance' is more than a song for us. It is the catalyst to tell a story and talk about all the things in this world that try to keep us trapped; which for some of us, is ourselves," expressed The Ruins of their new single. "We want people to listen to this song and be empowered to take that first step towards whatever it is that is holding them back from the freedom we all have been given."
The Ruins is a duo of dynamic passion, musical excellence and unparalleled creativity. Perhaps what distinguishes them most, however, is their unrelenting desire and penchant for empathy. Their first and foremost goal in life - and in their music - is to meet others wherever they may be—without judgment or pretense. Together, Black and Gonzalez said, "We know God wants us all to bring our baggage, our insecurities, our doubts, our "ruins" to Him…so He could make something beautiful. It's from this vantage point from which our name was born. "
The Ruins Tour kicks off at West Ridge Church, 3522 Hiram Acworth Highway, in Dallas, Ga. on May 20. All are invited to attend and experience a night of The Ruins music, see their debut music video and hear the duo share their journey and story of faith.
The Ruins Tour
5/20 Atlanta, GA
5/24 Atlanta, GA – PINK's 7th Annual Women's Business Lunch
6/13-16 Beaufort, SC
6/25 Alpharetta, GA
7/16 Canton, GA
7/23 Woodstock, GA
9/3 Kennesaw, GA
iTunes Link: http://apple.co/1WCByCr
Press Kit: https://www.dropbox.com/sh/hveivr82vb2q63x/AAAGgyaNyPbWgsg80WPMwm8Za?dl=0
About The Ruins: Comprised of Debra Black and Victor Gonzalez, The Ruins is a duo of dynamic passion, musical excellence and unparalleled creativity. Their upcoming EP resonates with their soul-stirring revelation of grace and redemption; their razor-sharp pop sensibilities and the generosity of two artists who know how to ebb and flow, give and take, while balancing reality with hope. The debut single, "Deliverance" is a pop-alternative gem that captures the essence of the duo—sonically and philosophically. The "Deliverance" single released May 13.
Connect With The Ruins
Website: http://www.theruinsmusic.com
Facebook: https://www.facebook.com/wearetheruins/
Twitter: https://twitter.com/wearetheruins
Instagram: https://www.instagram.com/wearetheruins/
Media Contact:
Chelsey Dickson
TKO PR
chelsey(at)tkomarketing(dot)net
615.331.8538 ext. 3