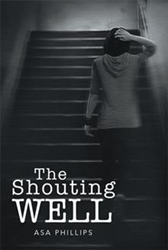 Rotorua, New Zealand (PRWEB) June 23, 2014
Waking up after the onslaught of a nightmare during her sleep, author Asa Phillips was inspired by the horrors in her subconscious that she began writing and later on could not stop until she completely weaved a story that sprung first from her nightmare and reinforced by personal experience with depression and suicide. A suspense-horror tale awaits readers in this new literary offering; a piece that will make readers familiar with "The Shouting Well."
Shouting people, wishing for their loved ones to come back up in the world of nothingness they were trapped in. The same response that resonates from below the stairwell disturbs her. Lots of memories of people keep on coming back, hunting and torturing her. Would she be able to find a way out of this place that seems to be only full of shouts and lost souls?
Find out the answers to the many puzzles of this tale by following the horrors and the mystery after a young woman was enticed into a car park against her better judgment, and later on she discovers that there is no way out. Phillips successfully transitioned nightmare from the recesses of her memory into a tale that will make your hair rise, will make you turn around and see to check if the sounds are coming from the bottom of "The Shouting Well."
With a little drama aside from the suspense that doubles through every page, Phillips wants readers to take away a very important lesson of not judging other persons. Phillips is intent on the idea that through her book readers may learn to look for the truth by looking inwards and seeking for the answers deep down inside of them. Springing from an idea that is from within and not through what she heard or what she has seen, Phillips' "The Shouting Well" is a unique and gripping tale that will make you ask for more.
For more information on this book, log on to Xlibris.co.nz.
The Shouting Well * by Asa Phillips
Publication Date: 11/12/2013
Trade Paperback; $20.74; 88 pages; 978-1-4931-2671-2
Trade Hardback; $37.34; 88 pages; 978-1-4931-2672-9
e-book; $3.31; 978-1-4931-2673-6
Members of the media who wish to review this book may request a complimentary paperback copy by contacting the publisher at 0800-443-678. To purchase copies of the book for resale, please fax Xlibris at (09) 353-1455 or call 0800-443-678.
For more information, contact Xlibris at 0800-443-678 or on the web at Xlibris.co.nz.