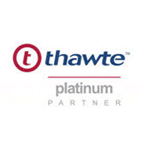 Thawte®
Protecting identities and transactions with almost 1 million SSL & code signing certificates, Thawte extends its global reach to 240+ countries.
Saint Petersburg, Florida (PRWEB) August 06, 2013
"Our ultimate goal is to provide companies of all shapes and sizes the ability to protect their websites with best possible products," said Bill Grueninger, General Manager of The SSL Store™. "We believe these new prices on our Thawte SSL certificates are in-line with our mission and will help our customers acquire premium security products without breaking their budgets."
Founded in South Africa in 1995, Thawte® was the first certificate authority to issue SSL certificates to public entities outside of the United States. In 2000, Thawte® was acquired by VeriSign, Inc., which was later purchased by Symantec Corporation. Since its founding, Thawte® has issued roughly one million SSL and code signing certificates worldwide. The Thawte® trust seal, which accompanies every certificate, is available in 18 languages and helps web visitors that the website they are exploring has been vetted by a world leader in online security and is safe to do business with.
These new lower prices will be available with Thawte® DV, OV, and EV certificates. Thawte EV SSL certificates are especially valuable to businesses – as they combine the trusted Thawte® brand name with the most visible security indicator on the web, the green address bar. When customers see the green address bar in conjunction with the Thawte® Trusted Site Seal, they have all the visual trust indicators they need to confidently make an online transaction. Lower pricing on Thawte® brand certificates, especially EV certificates, helps ensure that customers of The SSL Store™ will have the most secure and trusted sites on the web.