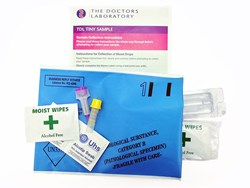 There are excellent treatments available for the management of HIV and early detection provides the opportunity for the best clinical outcome. By making HIV testing more accessible, we hope that this leads to more people getting tested
UK, (PRWEB UK) 22 November 2013
The STI Clinic is now offering HIV testing. Results will be available to patients within 4 hours. The initiative seeks to promote the National HIV Testing Week (22-29 November 2013), which this year coincides with the first European HIV Testing Week. 10% of all sales of any HIV tests made during the National HIV Testing Week will be donated to the National AIDS Trust.
The STI Clinic has introduced a new test to encourage confidential testing for the HIV. From Friday, 22nd November 2013, patients will be able to order HIV testing kits online for home sampling for £39.95. The STI Clinic believes that early detection of any Sexually Transmitted Infection is essential but especially so when it comes to the HIV virus. Robert MacKay, founder of The STI Clinic, said:
"We have been providing sexual health testing through our website since 2008 so we know that there is a high demand for this service from people too busy to attend a clinic in person. We are now able to extend the suite of tests available to include HIV. There are excellent treatments available for the management of HIV and early detection provides the opportunity for the best clinical outcome. By making HIV testing more accessible, we hope that this leads to more people getting tested."
People will now be able to purchase these HIV tests online, and take a small sample of blood in the comfort of their own home with an easy to use kit specially designed for this purpose. They then send the sample to an accredited laboratory in a pre-paid envelope. This quick HIV test produces a reliable result 6 weeks after exposure. Patients will have access to a doctor should their test result indicate that they have HIV.
The turnaround time for the HIV test is extremely quick and the patients are able to see their results from as little as 4 hours from the time the sample is received by the lab. Confidentiality will be maintained throughout the process and patients will need to log-in to the secure portal to get their results.