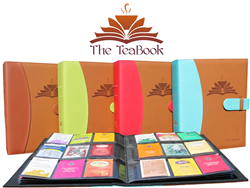 "We believe in being socially responsible and environmental stewards. That's why we don't just make products, we make products that are just."
Los Angeles, Calif. (PRWEB) April 06, 2016
713 Innovations, LLC announced the company has committed to moving the manufacturing of its popular product, The TeaBook, from China to the U.S. if there is sufficient customer demand. The announcement was made to a crowd of more than 800 people at the organization's Kickstarter launch for The TeaBook at the renowned California Science Center (home of the Space Shuttle, Endeavor) on April 3, where attendees set the world record for the largest zero-waste tea party in history.
"We believe in being socially responsible and environmental stewards. That's why we don't just make products, we make products that are just," said 713 Innovations's Noah Bleich, co-creator of The TeaBook.
About the Venture
Entrepreneurs Noah Bleich and Jeffrey Berman designed and developed The TeaBook – an innovative design that allows users to store, share, and serve tea. Bleich credits his late mom for helping him to develop a prototype, but the team improved on the original TeaBook concept by creating a product that's "green." (It's actually made of recycled and recyclable materials.) But they didn't stop there …
The duo dreamt about manufacturing the book in the U.S. in an effort to not only to minimize the manufacturer's environmental impact, but to bring jobs to America – a seemingly insurmountable (a.k.a. expensive) goal at first glance, but there was a way. The team turned to the Kickstarter business model to incentivize its customers.
According to Berman, "We've secured a commitment from our manufacturer that if we meet our Kickstarter stretch goal, they will move the manufacturing process from China to the United States. That means better control over the labor and environmental implications of the manufacturing process."
There is also another unique Kickstarter customer incentive … the availability of the company's exclusive line of fine teas, "Collect Teables," which include such unique varieties as ShakeSpearmint and AgathaChrisTea – each packaged in artistically drawn foils that, of course, fit perfectly into The TeaBook.
The TeaBook and Collect Teables are now available for purchase on Kickstarter through May 18, at http://kck.st/1S8Ns0Q.
About The TeaBook
The TeaBook has revolutionized tea storage, sharing and service. On the outside, The TeaBook is a chic and stylish book designed to share shelf space with your favorite cookbooks (or any other books, for that matter). But open it up and find its pages hold up to 144 different teas – each tea in perfect view.
About 713 Innovations
713 Innovations is involved in numerous environmental initiatives and is passionate about curating teas and creating environmentally sound and innovative tea products, including The TeaBook – a storage device that allows users to store, share and serve tea. 713 Innovations' Teas and Tarps project faces El Niño head on by bringing hot tea and rain tarps to Los Angeles' homeless on rainy days. For more information, please visit http://www.TheTeaBook.com/tarps.