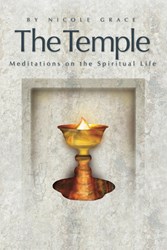 ★★★★★ Five Stars…artistically pleasing and spiritually inspiring.
San Francisco, CA (PRWEB) January 23, 2014
Two months into a national book tour for The Temple (Mani Press, 2013), leading independent book review journal, ForeWord Clarion, has published a rare five (out of five) star rating and review of the book.
With standing-room only crowds and lines around the block for the author's signings and events in San Francisco, New York and Denver, the acknowledgment from ForeWord caps a thrilling book launch for Buddhist mystic and award-winning poet, Nicole Grace.
Reviewer Margaret Cullison writes, "Grace's gift for using everyday situations to suggest universal truths creates poetry that is both artistically pleasing and spiritually inspiring…On the surface, these poems seem simple in meaning, but additional readings reveal more nuanced interpretations. The Temple offers readers poems of lasting, contemplative guidance."
A few of the meditations in the book have already won individual poetry awards, and Grace's previous books have won multiple national and international awards. Her book, Dreaming Bhutan: Journey in the Land of the Thunder Dragon was also honored with a five star rating and review from ForeWord Clarion, in 2011.
The Temple follows a format of accessible teachings and verse similar to the perennial favorite of spiritual seekers, Dhammapada: Sayings of the Buddha. However, The Temple uses contemporary imagery and describes experiences that will be familiar to anyone living in the world today. Using seemingly ordinary moments to draw readers in, Grace then illuminates a deeper truth to be found in their midst, bringing readers to their own epiphany or revelation, through her own, as described in each "meditation."
Available now from Mani Press, 200 pages. The author continues her national book tour with a visit to the popular Mystic Journey bookstore in Venice, California, February 1, 2014 at 2:30 p.m. More information is available at: http://www.likeswans.com and on the book's dedicated Facebook page: http://www.facebook.com/thetemplebook.
Nicole Grace is a teacher, Buddhist mystic and author of the award-winning books, Dreaming Bhutan: Journey in the Land of the Thunder Dragon; Bodhisattva: How To Be Free, Teachings To Guide You Home; and Mastery At Work: 18 Keys For Achieving Success, Fulfillment And Joy In Any Profession. Her books, talks and recordings continue to inspire thousands of seekers around the world.
Known to many by her spiritual name, Kundalini, she teaches a modern approach to spirituality and work, with uncommon wisdom, humor and warmth.
For more information, visit http://www.likeswans.com.
Media Contact: Press office, Like Swans
Phone: 800-384-8815, Email: info(at)likeswans(dot)com