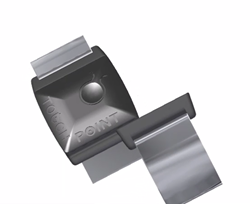 Buzzies have shown to not only alleviate stress and anxiety, but also to improve focus, reduces cravings, and enable better sleep.
Scottsdale, Arizona (PRWEB) November 08, 2016
Changing the world, one Buzzie at a time. This is the motto of Arizona's newest female owned tech startup. Dr. Amy Serin and Entrepreneur Vicki Mayo recently launched a wearable device known as the "Buzzies." The Buzzies are a patent pending non-invasive neuroscientific wearable device that is worn on both arms or put in pockets, socks, or bra straps. Using tactile stimulation, the Buzzies have shown to not only alleviate stress and anxiety, but also to improve focus, reduces cravings, and enable better sleep. This game changing device is now available for public use.
The Buzzies utilizes patent pending BLAST technology to help the wearer override the body's fight, flight, or freeze (F3) response to stress and anxiety. Using the Buzzies for as little as 5 minutes a day results in improved focus and increased performance.
The Buzzies are safe for people of all ages. The Buzzies are an effective, accessible, and affordable solution to overcoming stress, anxiety, focus issues, enhance performance and sleep.
The Story Behind the Gamechanger
Neuropsychologist Dr. Amy Serin and Executive and foster mother Vicki Mayo founded The TouchPoint Solution in late 2015 with the mission of bringing relief to the millions of people who suffer from stress and anxiety. Over the time span of a decade, Dr. Serin's work in therapy and neuroscience led to the discovery of a very successful PTSD treatment that could be used as a stand-alone product for gifted children and executives whose stress and intensities hamper performance, relaxation, sleep, and their ability to cope with sensory stimuli. Dr. Serin used quantitative electroencephalogram data, existing neuroscientific research, and archived data to unearth significant changes in the brain just seconds after experiencing bi-lateral alternating stimulation (BLAST). A key technological improvement was discovered, as was the notion of BLAST, which was too powerful a treatment to be confined to a doctor's office due to its effectiveness and simplicity. She then partnered with friend and entrepreneur Vicki Mayo to bring this extraordinary concept to the masses through the launch of the "Buzzies."
About Dr. Serin
Dr. Serin graduated as Valedictorian from Arizona State University and holds a PhD in Clinical Psychology with a specialty in Pediatric Neuropsychology from the Fielding Institute in Santa Barbara, California. Dr. Serin conducts psychological and neuropsychological evaluations for people age 4 through adult for ADHD, learning disabilities, IQ, traumatic brain injury, anxiety and depression, autism spectrum disorders and giftedness.
Dr. Serin is the President Elect of The Arizona Neuropsychological Association and a member of the International Society for Neurofeedback and Research, the Arizona Psychological Association, the National Academy of neuropsychology, and Arizona Children's Services Network.
About Vicki Mayo
Mayo has an extensive entrepreneurial business career. After being appointed by Arizona Governor Ducey, Mayo spent the last two years transforming government as the Chief Transformation Officer for Arizona's second largest agency- the Department of Economic Security. Prior to her appointment, Mayo's accomplishments include growing tech company Valorglobal into an international company with close to 1,000 employees over 3 continents. Mayo's prior business interests include owning a national hotel management company, as well as working in the Finance industry. Mayo has a tremendous passion for helping others and this drove her to leave her executive career to bring this life changing technology to the masses.
Vicki Mayo graduated from Northern Arizona University with both a Bachelor of Science in Hospitality Administration and a Bachelor of Arts in Political Science. At the tender age of 20 Mayo adopted 2 teenage boys that had been abandoned by their parents. Through a grueling court process and child protective services oversight, Mayo is now proud of her sons- one a budding entrepreneur and the other working in the IT field (after graduating ASU on scholarship). She also has two biological children 5 and 8.
For more information about TouchPoint and the Buzzies please visit http://www.thetouchpointsolution.com.