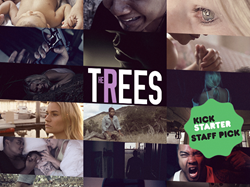 Filmmaker David Arthur Clark turned to Kickstarter.com to reach out to advocates for victims of domestic violence and independent film fans to fund his new narrative film The Trees
San Diego, California (PRWEB) October 08, 2014
12.7 million people are physically abused, raped or stalked by their partners every year. Filmmaker David Arthur Clark turned to Kickstarter.com to reach out to advocates for victims of domestic violence and independent film fans to fund his new narrative film called The Trees, which will tackle the issue of domestic violence through a well-crafted, emotionally charged story and cutting-edge directing style. The film will feature a cast that reflects the more diverse world we live in.
1 in 4 women will experience domestic violence during her lifetime. October is domestic violence awareness month and The Trees film project has formed several partnerships related to the cause, including with emerging singer Jerid Nowell of Bash Records, Fortune 421 clothing and Plus One Water that will seek to benefit local southern California shelters for victims of domestic violence.
The Trees will create a visceral, emotionally raw film experience for audiences, who will certainly be powerfully affected by the themes. The story pits something so gritty and realistically terrifying against the evils of a supernatural force with an ending nobody will see coming. Showcasing his media expertise, Clark provided riveting trailers for his media campaign to give potential backers a thrilling film preview.
The film has attracted exceptional talent including Chalet Lizette Brannan, a young gifted actress with more than twenty feature films under her belt, and London Durham, who was recently in When the Game Stands Tall, starring Jim Caviezel. Scoring the composition of the film is Ryan Walker, the touring keyboardist for Imagine Dragons.
Crowdfunding will fund the production of this film, including everything from professional sound design, mixing, more camera lighting equipment/rigs, festival submissions and possible distribution deals. Stretch goals include reaching out to marquee actors for supporting roles, since several have already shown interest in being in the film.
There is only a little over a week left to help fund The Trees. Clark chose to pursue funding through Kickstarter.com because it is a proven way to fund a film, especially when there is so much passion behind the project. "It's hard work but the support has been amazing and inspiring. It feels like we are all making this happen together," said Clark. The Trees will touch audiences and bring awareness to the heartache and hardship that victims face at a time when such awareness is sorely needed.
This crowdfunding campaign ends on October 17th, 2014. Support the filmmaker's campaign against domestic violence by supporting the Kickstarter here: http://kck.st/ZtYme5.
About David Arthur Clark:
Clark is a director and screenwriter. As a minority raised in a lower middle-class family in the south, Clark knows what it's like to work hard. He spent sleepless nights conducting the media campaign and providing updates and videos for fans of the film all while taking care of his newborn daughter. Clark is part of a growing trend of up and coming filmmakers who turn to crowd funding to make their vision a reality.
###