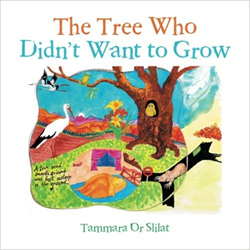 "The Tree Who Didn't Want to Grow" follows the story of a young tree who finds it hard to accept the fact that it is growing and going through many inevitable changes
PARDES HANNA-KARKUR, Israel (PRWEB) February 02, 2017
As her children were growing up, Tammara Or Slilat noticed that they were reluctant to accept changes in their lives. Or Slilat decided to write a children's story that focuses on how to overcome fears of the unknown and accept change.
"The Tree Who Didn't Want to Grow" (published by Partridge Singapore) follows the story of a young tree who finds it hard to accept the fact that it is growing and going through many inevitable changes. Its leaves grow and then fall off, the wind makes it sway and, on top of it all, the young tree must come to terms with the fact that it will never be able to do things that trees cannot do. In the end, after overcoming a life-threatening crisis, the young tree discovers that it is content and happy being a tree. "Change is an inevitable part of human life. Everyone can find comfort and inspiration in this story," the author says.
"The Tree Who Didn't Want to Grow" is printed as a coloring book. Young readers are invited to color it and add dialogue bubbles to the minor characters, which they can cut and glue in the book. "The book becomes a co-creation of the author and the readers who are invited to upload images from their books to the book's website where they can see the artwork of other children their age," the author says.
"The Tree Who Didn't Want to Grow"
By Tammara Or Slilat
Softcover | 8.5 x 8.5in | 46 pages | ISBN 9781482881257
E-Book | 46 pages | ISBN 9781482881264
Available at Amazon and Barnes & Noble
About the Author
Tammara Or Slilat was born in Israel in 1960. Or Slilat has been an English teacher for 26 years. The author is also a painter and a poet, and has had many group and individual exhibitions. She obtained her BA in English Literature and Philosophy from Tel-Aviv University and her MA in English Literature and Creative Writing from Bar-Illan University. She won the Jordan Valley Creativity award in 2004. The author currently lives in Pardes Hana, Israel. She has published the following books: "Children are Made of the Stuff of Dreams," edited by Natan Yonatan, Sifriyat Poalim, Tel-Aviv, 1991 (Hebrew); "Only Love Can," edited by Itamar Yaoz-Kest, Eked, Tel-Aviv, 1994. (Hebrew); "Transfigurations," edited by Ilan Sheinfeld, Shufra, Tel-Aviv, 2015 (Hebrew); "Autumn, Winter, Spring, Summer," Amazon, 2011 (English) and "Experiences of an Inexperienced God," Partridge, 2015 (English).
Partridge Singapore, an imprint in partnership with Penguin Random House Singapore, aims to help writers in Singapore, Malaysia, and the rest of Southeast Asia become published authors. Partridge Singapore gives authors in the region direct access to a comprehensive range of expert publishing services that meet industry standards but are more accessible to the market. For more information or to publish a book, visit partridgepublishing.com/singapore or call 800 101 2657 (Singapore) or 1 800 81 7340 (Malaysia). For the latest, follow @PartridgeSG on Twitter.
###