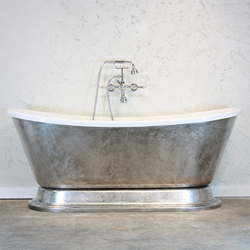 New spin on the traditional tub style, updated with minimalistic accents.
Saint Petersburg, FL (PRWEB) March 17, 2015
The Tub Studio offers an exciting new range of clawfoot, pedestal, and skirted freestanding bath tubs. After repeated requests from designers and builders for a new, minimalistic bath tub style, a new line is set to launch in April 2015.
The company offers top European design and tub styles with innovative foot options ranging from a traditional Medici claw foot, to orb shaped polished aluminum, and even flat polished aluminum contemporary bathtub stands. The edgy designs on the tubs incorporate a very sleek, definitive curve concept. Clients can experience traditional tub styles now completely updated with minimalist accents.
Superb new exterior finishes make tubs from The Tub Studio even more exceptional. Ranging from aged silver to gold leaf and faux brushed stainless surfaces, The Tub Studio offers its' clients a superb choice for every bathroom.
While the company primarily targets designers and architects, buyers can purchase these sensational tubs directly from the website at http://www.thetubstudio.com.
All tubs offered by The Tub Studio are available in "all white" and "all biscuit" finishes. Bill Hamilton, the chief designer for the company says that biscuit color still accounts for around 20% of bathroom finishes. However, Hamilton notes the choice of exceptional looking tubs in the biscuit shade has so far been limited. Designers seem to agree, as many have been asking The Tub Studio to offer a single slipper style bathtub in the biscuit color.
In response to these requests, the company is pleased to announce that an all new design 67" single slipper tub will be launched in April 2015. The new style will be available in white and biscuit. Like most tubs from The Tub Studio, the bathing floor space is generally roomier than most others on the market.
All Tub Studio products are available online at http://www.thetubstudio.com
About The Tub Studio:
The Tub Studio manufactures high-quality clawfoot and pedestal bath tubs, as well as unique finishes, for homeowners and builders. The Tub Studio is an industry authority on the subject of vintage-inspired tubs and fixtures with experts who can bring your vision to life, whether it includes modern refinery or Victorian elegance.
To see what The Tub Studio can do for you, visit http://www.thetubstudio.com