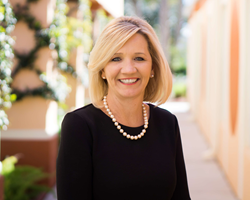 The hiring of Dr. Tammy Ferguson is consistent with the approach of The Weiss School to identify and attract world-class educators to the campus.
Palm Beach Gardens, Florida (PRWEB) March 20, 2016
After 16 years at The Weiss School, Dr. Denise Spirou informed the school in October that it is time for new leadership in order to allow her to move to the next chapter in her life, pursuing new opportunities beyond The Weiss School. The school is grateful to Dr. Spirou for all of her contributions to the school.
After commencing a search for a new head of school, we are pleased to announce that Dr. Tammy Ferguson, an award-winning educational leader, has joined The Weiss School as its new head of school. Dr. Ferguson will be working closely with Dr. Spirou through the current school year to ensure a smooth leadership transition.
Over her 20-year career as an educator, Dr. Ferguson served as a K-12 public school principal, area director for all Palm Beach County North Area Schools, and most recently as the principal/director of the Florida Atlantic University (FAU) School District. Recently named one of the 100 most influential women in the history of FAU, Dr. Ferguson provided outstanding leadership at the A.D. Henderson University School and the FAU High School, which are among the state's university-embedded elementary, middle and high schools. As a result of her leadership, these schools have emerged as two of the most acclaimed schools in the state of Florida.
The Weiss School, located in Palm Beach Gardens, is the only independent private school in southeast Florida exclusively dedicated to educating gifted students in pre-K through eighth grade. The Weiss School promotes an educational experience designed to unleash the full potential of gifted children through an approach that develops critical thinking, creative problem-solving, communication, and leadership skills.
The hiring of Dr. Ferguson is consistent with the approach of The Weiss School to identify and attract world-class educators to the campus. The school faculty includes nationally recognized Albert Einstein Fellows in science and technology, a "Florida Middle School Social Studies Teacher of the Year," and a nationally renowned, Julliard-trained music educator.
The gifted curriculum at The Weiss School is built on six Centers of Excellence: Science/Technology/Engineering, Mathematics, Language Arts including speech and debate, Social Studies, the Arts, and Foreign Languages.
At The Weiss School, Dr. Ferguson will continue to expand the school's national and local partnerships with organizations, area employers and educational institutions. A few of the existing partnerships that The Weiss School has crafted include collaborations with NASA, the University of Florida, the Palm Beach Historical Society, and the world-renowned Boston Brass Ensemble.
More information about The Weiss School and its innovative curriculum for gifted students can be found at http://www.weissschool.org.