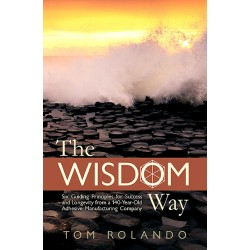 Elgin, IL (PRWEB) October 20, 2014
Wisdom Adhesives Worldwide, a leading global manufacturer of packaging and converting hot melt and water-based adhesives and the longest continuously operating adhesives manufacturer in the world, announces the release of The Wisdom Way book, by Tom Rolando, the company's Chief Operating Officer. The book focuses on six Wisdom Way guiding principles for longevity and success that Wisdom Adhesives Worldwide has used for the past 140 years and continues to use every day.
The Wisdom Way is a comprehensive approach to conducting business that is based on six guiding principles: Passion, Action, Reinvention, Endurance, Relationships and Generosity. Represented by a hexagon, the strongest of all chemical structures, each principle of the Wisdom Way corresponds to one of the hexagon's six sides, which all come together to create one strong belief system.
The Wisdom Way goes in depth about the six guiding principles and explains how adopting each principle provides tremendous benefits. It also provides a brief look at the history of Wisdom Adhesives Worldwide and how The Wisdom Way has been an important part in guiding the company throughout its 140 years of business. The book concludes with a look into "The Next 140 Years" of Wisdom Adhesives Worldwide and how these core values help create a bright future.
The Wisdom Way - Six Guiding Principles for Success and Longevity from a 140-Year-Old Adhesive Manufacturing Company is available wholesale through Ingram, Baker and Taylor, and Inkwater Books. The retail book will available soon through most online retailers, Amazon and Barnes and Noble, as well as your local book store.
As a global supplier of environmentally safe and compliant water-based and hot melt adhesives to industrial users, Wisdom Adhesives Worldwide manufactures water-based resins, dextrins, PSAs and acrylics; hot melt EVAs and metalocenes, PEs and PSAs; and protein adhesives and reactive products. Wisdom Adhesives Worldwide serves a wide range of industries, including packaging, converting, bookbinding, graphic arts, tissue and towel, product assembly, textiles and general purpose. Wisdom Adhesives Worldwide is known for responding to global customer needs faster – often with a 24-hour turnaround – than any other company in the industry, providing high-quality products and personalized service second to none.
Since 1875, Wisdom Adhesives Worldwide has been advancing the technology of adhesives. The company's exceptional leadership has been headed by five consecutive generations of the Wisdom family, still exceeding the expectations of worldwide customers at an unparalleled pace. In this age of global entities, Wisdom Adhesives Worldwide stands out as a company of real people working person-to-person in order to respond to the needs of each and every industrial adhesives customer—and doing it fast.
For more information, call 847.841.7002 or visit http://www.wisdomadhesives.com. Wisdom Adhesives Worldwide is headquartered at 1575 Executive Drive, Elgin, IL six0123.
###