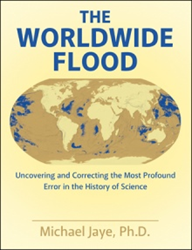 HARRISBURG, Penn. (PRWEB) September 11, 2017
In his new book, "The Worldwide Flood: Uncovering and Correcting the Most Profound Error in the History of Science" (published by Archway Publishing), Michael Jaye, Ph.D., demonstrates that geologists erred when they concluded there was never a worldwide flood, and he challenges their modern-day peers to examine foundational beliefs in the presence of new map data.
"About 200 years ago, geologists determined that there was never a worldwide flood," Jaye says. "But the early geologists' conclusion – which affects science to this day – is "indisputably erroneous." The author explains how ubiquitous submerged structures like Monterey Canyon formed and what caused their submersion. Jaye identifies and analyzes the impact remnants left by the object that delivered the flood, and he explains how the new waters forever changed the Earth. Humans are among surviving species, but Jaye argues that they are ill-adapted to the post-flood ecosystem.
In addition, Jaye discusses how Google Earth is historically equivalent to Galileo's telescope: new data revealed by the instruments overturned prevailing yet incorrect science.
"My finding unifies science with the human narrative tradition," Jaye says. "We humans understand neither where we are from nor what happened to our planet because of geology's historic error that has affected the last 200 years of human understanding. This is *our* story, and most humans will be interested in it."
"The Worldwide Flood"
By Michael Jaye, Ph.D.
Hardcover | 8.5 x 11 in | 66 pages | ISBN 9781480844339
Softcover | 8.5 x 11 in | 66 pages | ISBN 9781480844315
E-Book | 66 pages | ISBN 9781480844322
Available at Amazon and Barnes & Noble
About the Author
Michael Jaye, Ph.D., recently retired as an associate professor at the Naval Postgraduate School in Monterey, California. He previously spent 15 years teaching mathematics and its applications at West Point, New York. His interest in the worldwide flood began with Google Maps images of the Monterey Canyon system.
Simon & Schuster, a company with nearly ninety years of publishing experience, has teamed up with Author Solutions, LLC, the leading self-publishing company worldwide, to create Archway Publishing. With unique resources to support books of all kind, Archway Publishing offers a specialized approach to help every author reach his or her desired audience. For more information, visit archwaypublishing.com or call 888-242-5904.