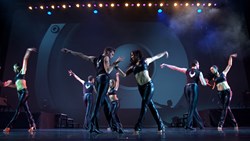 "We wanted to create something that would spark awareness of rock's influence on past and ongoing human rights issues…"
Tarrytown, NY (PRWEB) January 30, 2014
They Called It Rock! – a new rock 'n roll music, dance and video experience – will make it's national debut February 14th at the Tarrytown Music Hall in Tarrytown, NY.
The inspiration came from writings, speeches and conversations with young activists, and politicians living in repressive societies during the late 1960's through the 70's.
Nancy Paris and Charles Yurick, the NYC-based co-creators began the journey to producing this unique show in 2006.
The path eventually took Paris and Yurick to Washington, DC to meet the former Hungarian Ambassador to the US, Andras Simonyi. They heard his story and realized it was a scenario that played out not only in 1970s Communist Bloc countries, but in many places around the world where self expression and personal freedom were (and in Russia, Syria, Africa and other countries continue to be) denied.
"We wanted to create something together that would spark awareness of rock's influence on past and ongoing human rights issues; a venture tapping both of our passions, rock music for Charles and dance for Nancy. The collaborative process with our Creative Team, Rockland county residents Mark Rubinsky - Associate Producer, Recording Artist, Composer and (Kevin) Bacon Brother's band member, Paul Guzzone - Musical Director, and Mary Ellen Bernard - Creative Consultant, has been very exciting."
The show's young dancers have a direct connection to the show's story. They are all of Eastern European descent, whose family and friends were inspired to come to the West in search of freedom and their own personal dreams. All are world-class performers, representing the US in international dance competitions.
Some of the cast have also made the top spots on So You Think You Can Dance in both the US and Canada.
Paulie Z and Paul McGilloway, two gifted singers and guitarists, will be playing live against previously taped background tracks.
The "music-in-motion" experience covers 18 of rock's most iconic songs, from legendary artists like The Who, Led Zeppelin, David Bowie, Elton John and The Eagles.
They Called It Rock will also be performed in Iowa, at the Wartburg Artists Series on February 20th and the Stephen Sondheim Performing Arts Center on February 21. Later in the fall, it will be presented at the Manship Theater in Baton Rouge, Louisiana.
Tickets are $25, $35 and $45, and are on sale at the Tarrytown Music Hall and online at https://tickets.tarrytownmusichall.org/eventperformances.asp?evt=1419.
# # #
For additional information about the show, watch this video:
http://youtu.be/oWkDHQK5w0k.
Visit their fb page at: https://www.facebook.com/TheyCalledItRock.
Additional information about the professional Cast Members …
Paul Zablidowsky
Paulie Z is a different kind of American idol. At night he rocks the stage at venues nationwide with his powerful voice and guitar playing while fans keep shouting for more. During the day he spends his time teaching and performing music for kids. His energetic stage presence helped Paulie succeed in both fields and he eventually formed the Z Brothers, a band solely devoted to performing music for young children, and ZO2, a hard rock power trio. He spent the next decade recording four albums, touring the country with his childhood idols KISS and Poison, and eventually starring in his own TV show on IFC called Z Rock. Paulie has also had his own podcast on iTunes called The Paulie Z Show, starred in a couple of Off-Broadway musicals, created a worldwide music program for toddlers called Rockin' Railroad and started a non-profit organization for elementary school students called Rock Asylum Foundation. He is proud to now be a part of They Called It Rock.
Paul McGilloway
Paul is an Irish lead guitarist and solo artist, currently based in Manhattan. He introduced the new 2014 Corvette Stingray in Detroit were he performed live in the multi-media car reveal. He is bandleader for The Arlene's Grocery House band and the SNL After Party Band 2014. Paul has preformed with many major stars including Billy Gibbons (ZZ Top) Adam Levine (Maroon 5) and Sebastian Bach (Skid Row) to name but a few. He is endorsed by Gibson Guitars & La Bella Strings.
All of They Called It Rock dancers have represented the United States in International Dance Competitions.
Additional cast member performance credits include:
Nikita Malakhov
TV credits include the Canadian version of Dancing With The Stars, and he was ranked in the Top 18 male dancers on So You Think You Can Dance, Season 7.
Pavel Stepanchuk (Pasha)
Pasha appeared on So You Think You Can Dance, Season 7.
Denys Drozdyuk
Denys, the 2010 winner of So You Think You Can Dance Canada
Maksim Kapitannikov (Maks)
Top 18 on So You Think You Can Dance, Season 5
# # #
Direct Media Contact Info for They Called It Rock! co-creators:
Nancy Paris - nancy(at)tourdeforcegroup(dot)com
Charles Yurick - charlesyurick(at)gmail(dot)com