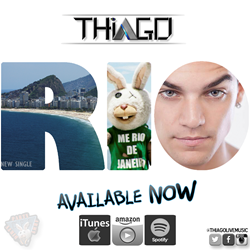 "The Ultimate Party Song," "Rio"
New York, New York (PRWEB) September 10, 2014
Latin pop star Thiago releases his first single, since his arrival to the United States, "Rio".
Thiago's unique fusion of pop, rock, hip-hop, and electro can be heard in his new single. While many fans call it "the ultimate party song," "Rio" can be described as an eclectic mix of Brazilian and Latin-infused American sounds with Spanish, Portuguese, and English lyrics.
The single is already becoming a favorite of many music industry professionals as well as corporate brands. Such attention gained "Rio" a placement in the multiple award winning indie film "Ten-Buck Baton" and later selected by The Hoyts Group, as the exclusive theme song in a national campaign for Hoyts Cinema, the largest cinema chain in Argentina.
"RIO" follows Thiago's first South American single "Party Is On The Table" which was released in Argentina and quickly generated a fan base as a result of playing on rotation in over 20 countries including HispanicTV television network.
"Rio" was recorded in New Jersey's Love house Studios with legendary producer George 'Menakeys' Mena. Unfortunately, Mena past away soon after producing "Rio," his last completed production. Thiago was extremely close to Mena and dedicated "Rio" to the man he called a father figure.
You can listen to "Rio" for a limited time by visiting Thiago's http://www.soundcloud.com/thiagolivemusic it is also available now on iTunes, Amazon, Spotify and many other digital retailers. For more information and updates log on to Thiago's official website, http://www.thiagoLive.com, Like Thiago on http://www.facebook.com/thiagolivemusic, follow him on Twitter, and Instagram @ThiagoLiveMusic.
Thiago can be seen at multiple events during the Mercedes Bens New York Fashion Week 2014. His next performance will be on September 11th, 2014 at 8pm, for Prive Group's Official Fashion Week Event. The location will be at the Highline Ballroom 431 W 16th St New York, NY 10011.
You can purchase your tickets at https://www.eventbrite.com/e/fashion-week-event-shows-by-laura-lee-redvanly-muti-chic-by-christine-deangelo-susan-merriam-style-tickets-12965001669