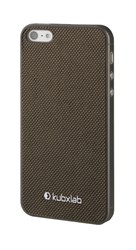 Toronto (PRWEB) October 16, 2013
kubxlab™, leading innovative tech accessory brand, is pleased to announce the latest in their line-up of Apple accessories: the MultiColors Collection of Ultra Thin Cases. The ultra thin, ultra light and ultra stylish iPhone cases are now available in a plethora of new colors to complement the new iPhone 5s, while adding only .39mm in thickness and 5 grams in weight.
One of the thinnest cases available in the market, the Ultra Thin Cases by kubxlab offer fashionable iPhone 5/5s protection without the bulk or weight of a traditional case. They're the perfect way to add a little style and scratch prevention while maintaining the unmistakable feel of a caseless phone.
The launch of the MultiColors Collection of thin iPhone cases adds eleven new textures and hues to the line: Charcoal, Tan, Brown, Navy Blue, Maroon, White, Purple, Green, Red, Teal, and Techno.
The addition of the MultiColors Collection to the Exotics, Elegance and Wood Collections of Ultra Thin Cases expands on kubxlab's quest to reach all customers' taste profiles. Each collection is expertly crafted with the finest materials and inspired by kubxlab's innovatively stylish approach to Apple accessories.
To learn more about the Ultra Thin Cases for iPhone 5/5s, please visit kubxlab.com.
About kubxlab™
Founded in 2010, kubxlab brings innovative tech accessory solutions to life. kubxlab's passion is to design stunning and innovative products for the discerning consumer. For more information, please visit kubxlab.com.
Connect with kubxlab™ on Twitter, twitter.com/kubxlab, and Facebook, facebook.com/kubxlab.
Media Contact
Heather Hewit
lotus823
Heatherh(at)lotus823(dot)com
732.212.0823