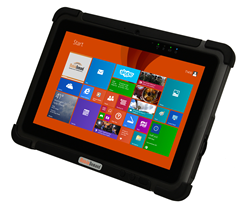 With the xTablet T1400 you can have a rugged and sealed device that is half the thickness and half the weight of other rugged 10" tablets and about the same weight as a consumer tablet with a case and other accessories.
Hiawatha, Iowa (PRWEB) April 30, 2014
MobileDemand launches a series of tablet innovations for the mobile workforce. The new xTablet T1400 rugged tablet is a thin and light device capable of running standard enterprise Windows (8.1 and 7) applications while withstanding harsh operating environments, at a new price point. The xTablet T1400 represents the first in a series of new, thin and light, rugged tablets that MobileDemand is introducing in 2014. MobileDemand will soon have a wide range of tablets for a variety of applications, functionality, durability, screen size, performance and price points. The xTablet T1400 is a purpose-built tablet that is designed for mobile workforce functions including those found in the utilities, field service, public safety, field sales, delivery and transportation sectors.
Easy to carry - Thin and light at 19mm thick and 1.1kg, the xTablet T1400 is comfortable to hold all day, especially for a 10" tablet that is rugged and sealed. The advanced fanless design allows the thinner profile while adding more features which tablets with a fan are not able to achieve.
Full day operation with hot-swappable, high capacity battery options because all jobs were "not created equally." The xTablet T1400 has three battery pack options to meet a wide range of jobs so users have the power needed without unnecessary weight. A hot-swappable battery is provided so the user doesn't need to worry about shutting down the tablet first.
Feature rich for business productivity without compromise - Starting with a large 10.1" 1920x1200 LCD that is all-light readable and attached to a 10-point multi-touch, projected capacitive touch panel that works with non-insulated gloves and water for outdoor use. An optional high performance imager with ergonomic triggering provides fast and comfortable barcode reading from over the head to the toes, or choose an NFC RFID reader for badges and tagged asset reading. The xTablet T1400 comes standard with all the I/O (USB 3.0, Ethernet, RS232, micro HDMI, microSD, u-blox NEO-6 GPS, and optional 4G LTE) capabilities needed and does not force elimination of productive combinations. Wrap it up with a screen protector, a hand strap, a briefcase handle, options for a 2-point or 4-point shoulder strap, desktop dock, and vehicle dock gives the most productive, safe, and comfortable solution for field workers.
Budget-friendly fully rugged - The xTablet T1400 comes with a high performance, Intel (Bay Trail Platform) Celeron N2920 quad core processor, 4GB of RAM, and 64GB of high performance SSD. IT professionals will benefit from options to run Windows 8.1, 8.1 Professional or Windows 7 Professional for older applications while decreasing development and deployment time, and keeping support costs low. This fanless design enables a 19mm thickness, IP65 sealing, and 4 foot MIL-STD-810G drop to handle those mobile outdoor applications with comfort. All of this not only lowers your cost of ownership, but MobileDemand is bringing it at a great price as well.
"At MobileDemand, we're known for our ultra-rugged xTablets, but now with the xTablet T1400 you can have a rugged and sealed device that is half the thickness and half the weight of other rugged 10" tablets and about the same weight as a consumer tablet with a case and other accessories," said Jon Rasmussen, Senior Director of Product Management and R&D. "If you're looking for a mobile tablet which you can rely on day in and day out to keep your employees productive without unnecessary fatigue, then the xTablet T1400 series is the right tool for your job."
About MobileDemand
MobileDemand is the nation's leading provider of rugged tablet PC systems used in the transportation industry to improve productivity, anywhere. MobileDemand xTablets are used by mobile workers in many other industries including Oil and Gas, Food and Beverage Distribution, Manufacturing, Retail and Field Service to cut operational costs and improve customer service. MobileDemand xTablet Rugged Tablet PCs range from rugged to military rugged and sealed to meet the performance you need for your work environment. They deliver the power, reliable performance and long-term savings companies need to achieve greater efficiency and productivity in the field. In 2013, MobileDemand earned the position of 800 on the Inc. 500/5000 list of the nation's fastest growing private companies. The company has built its success on a commitment to innovation everywhere – in product design, customer relationships and in its channel. MobileDemand. Innovation everywhere. Productivity anywhere. Additional information is available at http://www.RuggedTabletPC.com.