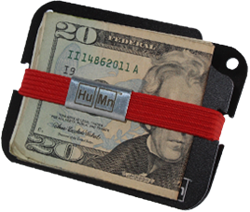 The perfect wallet for anyone who is traveling.
Portland, Oregon (PRWEB) November 09, 2013
There is now, through Veterans' Day, a promo code on HuMnWallet.com that will give buyers 20% off their purchase of a HuMn wallet, known for its thin profile and small size.
Click here to use the code HuMnVet20 for 20% off at checkout on any of their thin wallets in stock.
Those involved with these customized RFID blocking wallets state they are running this special in an effort to show thanks to "the brave men and women (active and retired) for their service."
HuMn, whose motto is, "The Last Wallet You'll Ever Want," suggests that the special is an effort to remind all citizens of the gratitude which should be publically expressed to veterans and their families all the time, but especially on Veteran's Day.
Here are some ideas HuMn gave as ways to show appreciation to veterans:

" Send active members of the military a thank-you message via a tweet! Tweets using the #wearegrateful hashtag are screened and printed onto postcards distributed to troops worldwide.
Volunteer at a local VA Medical Center.
Make a call to a Vet you know. We all know a friend or family member that served. Make it a priority to contact them personally and say thank you."
More About HuMn
HuMn describes their product as the perfect wallet for anyone who is traveling because it is not only small and lightweight, but it also features RFID skimming protection- which means your financial information is safe in your wallet. You can learn more about this feature by clicking here.
Securing money and cards when traveling is described as one of the more important tasks all travelers deal with. A modern minimalist wallet needs to be lightweight, slim and easy to access, HuMn says, built from durable long-lasting materials which will securely protect its content.
The HuMn wallet--both the HuMn Wallet 2 (HW2) and the HuMn Mini--are designed to hold credit cards, a small amounts of cash and small sized cards like a driver's license.
A customer can choose between two or three plates for more storage capability if going with the HW2. Customers who just want the smallest, simplest design often choose the Mini. Click to view their many product options.
Each wallet comes with a durable shock strap and black microfiber pouch. There are four shock strap color options, and thousands of plate color combinations to choose from.
HuMn's Facebook Page reiterates that the Veteran's Day Sale is not only for Veterans, but for any customers using the coupon code HuMnVet20 this weekend.
Whether or not a customer chooses to buy a wallet, the company asks those visiting their site to consider showing their support for veterans in any way possible.