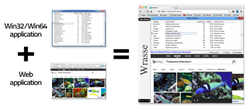 Thinfinity® VirtualUI™ offers developers an effortless solution to take their applications to the web, converting them in dual-platform Windows/HTML5 apps
WILMINGTON, DE (PRWEB) December 16, 2014
Cybele Software, Inc. announced today the release of Thinfinity® VirtualUI™, a one-of-a-kind development solution offering both instant GUI remoting and full web integration for Windows apps. Thinfinity® VirtualUI™ is aimed at developers who are looking for reusing their existing code base and convert their applications to muti-user, multi-instance web apps.
When it comes to GUI Virtualization, Thinfinity® VirtualUI™ offers developers an effortless solution to take their applications to the web, converting them in dual-platform Windows/HTML5 apps. These applications retain their standard Windows environment behavior and, additionally, can be hosted on a Thinfinity® VirtualUI™ environment to be remotely accessed from any modern web browser in a multi-user, multi-instance manner.
Drawing on the expertise and innovation from Cybele's Development team, Thinfinity® VirtualUI™ also makes full web integration of desktop applications possible. It facilitates two-way integration between the Windows-based applications and web resources by blending them with the web-side environment. Thinfinity® VirtualUI™ allows Win32/64 apps to be reshaped into completely tailor-made ones, combining them with available web and multimedia resources.
Thinfinity® VirtualUI™ relies on Javascript Remote Objects (jsRO), a brand new technology conceived by Cybele Software that enables the creation of remotable server objects, mirrored to the web as native Javascript objects. jsRO provides full two-way data-binding and remote procedure calls using an easy and straight-forward methodology -making the windows and web integration a children's game!
"Innovation is at the core of everything we do, and one way that we uphold this commitment is by constantly evolving and designing new solutions to developers' changing needs," said Gustavo Ricardi, Cybele Software, Inc. CEO.
Thinfinity® VirtualUI™ Highlights:

Instantly web-enables Windows desktop applications: works with popular Windows development environments and programming languages.
Real integration capabilities: Windows applications can now be integrated with other web resources or applications, providing not only GUI remoting but also functional and data integration.
New object remoting framework: the new jsRO (Javascript Remote Objects) framework facilitates the creation of remotable server objects, with their properties, methods and events mirrored to the web as native javascript objects.
Development Lab: web environment that lets developers see, test and interact with the jsRO objects created in their application.
Dual-platform - Windows/Web: applications can keep their standard desktop environment behavior, or be accessed remotely from any HTML5-compliant Web browser, in a multi-user, multi-instance fashion.
Cross-browser and Cross-OS: works with any HTML5-compliant Web browser, automatically using HTTPS protocol on Android native browsers, Microsoft IE9, and others that still lack support for the WebSocket standard protocol.
Zero client setup: no plugin, add-on, or other kind of installation on the client side is required.
Secure, high-performance web-based Remote Access to applications hosted on a LAN, through a single published IP address, via http(s) and WebSocket protocols.
Requirements:
Development machine

Operating Systems: Microsoft Windows 7 (32­bit/64­bit), Microsoft Windows 8 (32­bit/64­bit), or Microsoft Windows Server 2012 (32­bit/64­bit)
A development environment: Microsoft Visual Studio, Delphi 5 to XE7, Microsoft Visual Basic, PowerBuilder, and others.
The application project must use GDI or GDI+ calls. .NET WPF or DirectX projects are not supported yet.
Server machine

Microsoft Windows 8 32­bit / 64­bit
Microsoft Windows Server 2012 32­bit / 64­bit
End-user machine

Any operating system and/or device with a HTML5-compliant Web Browser.
Any modern Web Browser (HTML5-­compliant) such as IE10/11, Chrome, Safari, Firefox, Opera, etc.
Documentation:
Product Page: https://www.cybelesoft.com/Thinfinity/VirtualUI/
White paper: http://www.cybelesoft.com/docs/thinfinity_virtualui_whitepaper.pdf
Online manual: http://www.cybelesoft.com/helps/thinfinity/virtualui
Demo tutorial: http://cybelesoft.com/blog/integrate-your-delphi-application-with-the-web-tutorial/
Contact:
For more information about Thinfinity® VirtualUI™, contact Cybele Software, Inc.
3422 Old Capitol Trail, Suite 1125,
Wilmington, DE – 19808, USA.
Phone: (302) 892-9625 or (866) 462-9768
Email: info(at)cybelesoft(dot)com
Website: http://www.cybelesoft.com