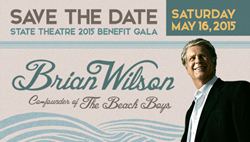 NEW BRUNSWICK, N.J. (PRWEB) May 05, 2015
Brian Wilson, the iconic co-founder of The Beach Boys, is the featured performer at the State Theatre's 2015 Benefit Gala.
The event, black tie preferred, starts at 6 p.m. Saturday night, May 16, at the State Theatre, 15 Livingston Avenue in New Brunswick.
Gala tickets, which include a reception and dinner dance at The Heldrich Hotel, 10 Livingston Avenue, are $700 and will feature auctions, 50/50, a live dance band, food, and open bars. Concert only tickets range from $55 to $150.
Wilson, one of pop music's most revered figures, is the creative genius behind some of the most legendary recordings in rock history. Among the dozens of Top 40 hits he co-wrote, arranged, and performed with his family band are "Surfer Girl," "In My Room," "Help Me Rhonda," "Sloop John B," "California Girls," and "Good Vibrations."
The 1,800-seat State Theatre, a premier nonprofit venue for the performing arts and entertainment, has been a magnificent venue for and a hub of things to do in New Brunswick, NJ since 1921.
Each year, the theatre offers a complete season of Broadway, orchestra, dance, concerts, family comedy, and live music. It's also the premier location of Hub City Carnivale, and Family Day.
In addition, the theatre is a popular, elegant location for special events as corporate presentations, birthday parties, and various other functions. The theatre is wheelchair accessible and provides accommodations for deaf and blind patrons.
This year's honorees are: Corporate Award, Investors Bank; Patron Award, Louis and Sharon Cyktor, and Exemplary Leadership Award, Warren R. Zimmerman.
Seating for the Gala is limited. Please contact Alisson Canavera, 732-247-7200, ext. 543, or acanavera(at)StateTheatreNJ(dot)org.
For more information on the Gala and live music, please visit the website at http://www.statetheatrenj.org/gala or contact the theatre at 732-246-7469, State Theatre NJ, 15 Livingston Avenue, New Brunswick, NJ 08901.
About State Theatre NJ
State Theatre is located in Central NJ and has offered a magnificent venue for varied types of entertainment since 1921. Catering to all of New Jersey, it is the premier location of Hub City Carnivale and Family Day, in addition to its full season line-up of Broadway, dance, orchestra, concerts, family events, comedy, and live music.